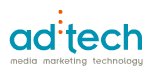 I know there's not usually supposed to be a competition between panels, but yesterday we just put the finishing touches on what I think is going to be one of the best panel lineups of the upcoming ad-Tech event in San Francisco at the Moscone Center from April 24 to 26th. The panel, which I have the pleasure of moderating, will focus on the topic of brand personality and how social media is helping all kinds of brands have an identity and share it with their customers. Confirmed panelists are:
And here's a session description that I wrote for pitching purposes (this has yet to go through final editorial filters so this may be different from the final description in conference materials):
Trench Warfare: Using Blogs, Vlogs and Podcasts to Have a Brand Personality
Personal media is about personality – having one and sharing one. Blogs, Vlogs and Podcasts are all some of the tools available to share your brand personality, and it's a hot trend right now. It wasn't always like this, with many people and organizations happy to hide behind any kind of filter and remain anonymous – especially online. Brands were often used as shields for real people to hide behind – never allowing customers to see "behind the scenes." Yet today the rise of social media is putting personalities front and center with blogs, vlogs and podcasts. People are expecting to see your personality. If good marketing is storytelling, then personal media helps you give an identity to the storyteller. This panel will bring some top storytellers together and help you learn how to better market your brand by using something you might be more used to burying … your personality.
Ad-Tech is going to be a huge event and lots of fun. If you are around at the end and want to try and connect, drop me a line beforehand. Otherwise, I should be there for most of the event so hope to see you there, and especially in the audience at our panel at 4pm on Tuesday the 24th!
Register for ad-Tech San Francisco before March 19th to get the early bird discount and use discount code ATSFA2 to get an additional 25% discount on top of that!
Update (03/08/07): Karl Long talks about the panel on his ExperienceCurve blog
Update (03/08/07): Jeremiah Owyang talks about the panel on his blog