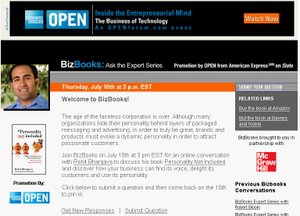 Today at 3pm I am taking part in a very interesting experiment of a live Q&A session as part of a new site that was recently launched as a partnership between Slate.com, McGraw-Hill and American Express. The feature, called "BizBox" is a one hour hosted online discussion about a book where anyone can log in from Slate and ask a question to the author. This is meant to be a real time stream of questions and discussion (I'll be online live answering questions), moderated by the editorial team at Slate and funded by Amex Open and McGraw-Hill. The commitment to an author is minimal … just be online for an hour to answer questions directly (basically a late lunch hour if you're on the east coast). As a secondary experiment, I'll also be live twittering during the event to get even more discussion going (my ID is @rohitbhargava).
Here's the link: https://discuss.washingtonpost.com/wp-srv/zforum/05/bizbooks_5.htm
I am excited about the upcoming discussion, but even more so in how this partnership is arranged and the marketing lesson it offers. McGraw-Hill (my publisher) has authors and content. Slate.com has the audience of small business owners, and Amex Open wants to reach this audience. Together they have put together this BizBox series to offer a way for Slate to a richer content experience beyond their own editorial, and made it worth the time investment from an author because they are doing heavy promotion, and also because the time requirement is minimal (ie – no travel). As a result, today's hosted discussion will likely be a four-way win … for me, McGraw-Hill, Amex and Slate.com. Anytime you can put together a marketing campaign like that, it's worth paying attention to.*
* And yes, I'd say so even if I wasn't today's guest!