Are you a member of the media? Visit our media kit to download a trend summary and more information about requesting an interview with Rohit >>
This week I launched the seventh edition of my annual trend report featuring all of my research from throughout the year on trends. Many of you have already picked up your copy of the book, but to spotlight some of the research in a more visual way, I wanted to share a short summary of every trend along with a visual and one story from the book to illustrate each one. I hope you enjoy this recap and if you haven't already – please buy your copy of the book today and help support the release!
Want trend insights before anyone else? Join my email list to receive a curated collection of the most under appreciated marketing stories of the week and useful insights every Thursday! 
2017 Culture & Consumer Behavior Trends
Fierce Femininity – As gender continues to become more fluid, fiercely independent women are increasingly portrayed as heroines, seen as role models and changing the world. (Example* – Empowered portrayal of women in all types of advertising) 
Side Quirks – The global shift toward individualism leads more people of all ages to embrace what makes them unique, follow their passion, and celebrate the quirky differences in one another. (Example* – Etsy's new #DifferenceMakesUs campaign celebrating individuality)
Desperate Detox – Addictive technology, media clutter and excess physical things add complexity of our daily lives, leading more people to desperately seek out more simplicity anywhere they can. (Example* – Rise of "Slow TV" and Netflix's choice to syndicate this content)
*Each trend contains many more examples and stories in the full book – this example is just used for illustration purposes.
2017 Marketing & Social Media Trends
Passive Loyalty –  The ease of switching from brand to brand continues to empowers consumers –forcing brands to get smarter about earning true loyalty of belief versus loyalty of convenience. (Example* – Cell phone companies making the cost of switching carriers near zero for consumers.)
Authentic Fameseekers – A new generation of creators turn skillfully earn attention from vast audiences online by being willing share real, unfiltered and true versions of themselves.
Loveable Unperfection – More brands and creators intentionally focus on imperfections, flaws and personality to make their products and experiences more human, believable and desirable. (Example* – Retail products like Crocs or Ugg boots that are loved despite their "flawed" design)
*Each trend contains many more examples and stories in the full book – this example is just used for illustration purposes.
2017 Media & Education Behavior Trends
Preserved Past – Technology offers new ways for us to preserve history, changing the way that we learn from, experience and preserve the past for future generations.(Example* – A holographic projection of holocaust survivor Pinchas Gutter brings the past to life)
Deep Diving – While our shrinking attention span leads to more media skimming vs reading, people continue to spend time with experiences and content that truly capture their interest. (Example* – Former West Wing cast member Joshua Molina creates a podcast to relive the series and go deep into it's making)
Precious Print – Thanks to our digital-everything culture, the few objects and moments we choose to interact with in print or physically become more emotionally valuable and deeply personal. (Example* – The bookstore culture in Argentina and why they have more bookstores per capita than any other country in the world)
*Each trend contains many more examples and stories in the full book – this example is just used for illustration purposes.
2017 Technology & Design Behavior Trends
Invisible Technology – The more sophisticated technology gets, the more it is able to anticipate needs, protect us and provide utility while increasingly blending unnoticeably into our daily lives. (Example* – Self healing asphalt that fixes it's own cracks using heat from the sun)
Robot Renaissance – As the utility of robots moves beyond manufacturing and into the home and workplace, they adopt better human-like interfaces and even may have micro-personalities built in. (Example* – Rise of caregiving bots from Japan that help care for elderly)
Self Aware Data – The combination of artificial intelligence and better sensors allows data to predictively organize, identify insights and often take action with little or no human intervention. (Example* – Drones that monitor farms and help automatically take action based on weather patterns)
*Each trend contains many more examples and stories in the full book – this example is just used for illustration purposes.
2017 Economics & Entrepreneurship Trends
Moonshot Entrepreneurship – Inspired by visionary entrepreneurs, more organizations think beyond profit and focus on using business to make a positive social impact and even save the world. (Example* – Elon Musk announces his "Master Plan Part Deaux" and inspires a new generation of entrepreneurs to save the world)
Outrageous Outsiders – Countries and corporations see mixed benefits from the rise of outsiders and their willingness to say or do outrageous things to capture attention and change the status quo. (Example* – Outrageous politicians unexpectedly win globally based on their appeal as outsiders and the promise of changing establishment politics)
Mainstream Mindfulness – Meditation, yoga and quiet contemplation overcome their incense burning reputations to become powerful tools to improve performance, wellness and motivation. (Example* – Coloring books continue as a phenomenon to help people find new ways to be more mindful and relax)
*Each trend contains many more examples and stories in the full book – this example is just used for illustration purposes.
About Non-Obvious 2017 (Published December 6, 2016)
These trends are excerpted from the latest edition of Non-Obvious – a book about how to see what others miss and predict the future. These insights were first released publicly on December 6, 2016 and the book is currently available for sale in Paperback and ebook formats.
This new update is the seventh annual edition of the long running Non-Obvious Trend Report which has been read and shared online by over 1 million readers.  Every year, 15 new trend predictions are shared in the report in five categories.
Wondering How Accurate My Previous Trend Predictions Were?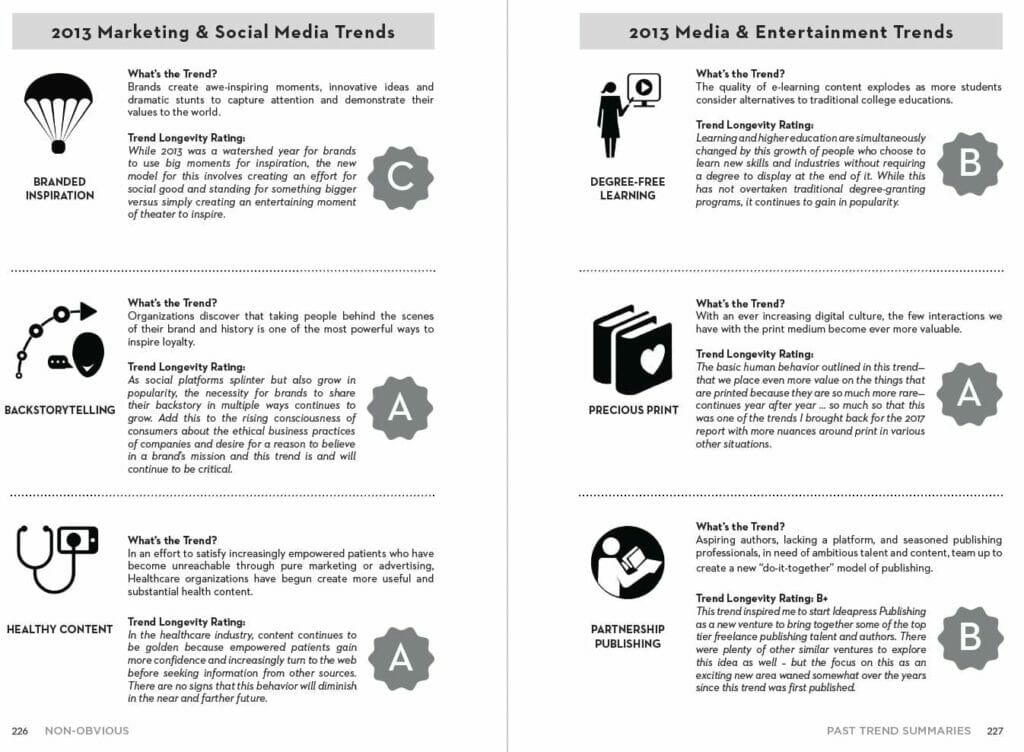 Unlike other trend reports, the aim of this annual work is to be completely transparent. To demonstrate this, the new edition of the book features a recap of the past FOUR years of trend predictions (60 in total) including an assessment and rating for each trend.
My hope in sharing this is to not only be accountable for previous predictions, but to add some context to this year's trends by consistently learning from the past.