Who has time to read books? We all should, but it's tough to know what is worth reading. Each week, this blog will spotlight a new book relevant for marketers or people in business with ideas worth learning and sharing. Through a combination of a personal interview with the Authors, and short review – you'll get the basic premise of the book and why you might want to read it. To recommend a book to be featured, send an email pitch to influentialmarketing@gmail.com.
This week's featured book is Spend Shift by John Gerzema & Michael D. Antonio, a research based guide to how post-financial-crisis values are changing the face of consumerism.
THE INTERVIEW (Thoughts from John Gerzema):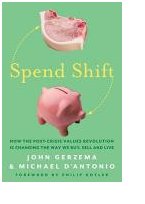 1. What inspired you to write Spend Shift?
I gave a speech at a TEDx event on the post-crisis consumer in Kansas City in late 2009. People told me they identified with the ideas, but asked if this was happening elsewhere around the country. So I hit the road visiting dozens of red and blue states with Michael D'Antonio, a Pulitzer-prize winning journalist to understand how our lives are changing after the recession. We sat across kitchen counters, talked to small business owners and interviewed people from over fifty startups and large corporations.
2. What is the big idea of the book?
There are cultural shifts explained by consumer behavior – what we came to call a Spend Shift – in how people defined and pursued what they now consider the good life and what they expect from the marketplace. Even though people find themselves less rich, they're realizing the way they spend is a new source of power.  We're moving from mindless to mindful consumption.
3. Who is the perfect person to read this book?
Anyone who is bullish on America. The U.S. been beaten down as of late, but our travels left us inspired that at the grassroots level, consumer is adaptable, business is adaptable and the future is not so dim as it appears.
THE 30 SECOND REVIEW (Why You Should Read It):
How people make decisions and their irrational behaviour at times is the focus of many books that have come out recently. What I liked about Spend Shift is that it tackles the all important question of culture and environment which so many books leave out. For Americans, the choices they make related to how they consume products is based as much on their own emotional state as the environment around them. In this book, John Gerzema and his Pulitzer prize-winning co-Author Michael D. Antonio use exclusive data from marketing agency Young & Rubicam's vast database of public attitudes to spotlight how people across America are returning to "age-old values such as self-reliance, faith and thrift to redefine the good life." In John's words, the macro trend is that "mindless consumption becomes mindful" – which is evidenced also by the rise of tools like Good Guide which help to shine a light on the practices of companies that we buy from. Spend Shift is an apt title for what is happening in the minds of these consumers, and for anyone who wants to get the inside scoop on how to prepare for this shift – Gerzema and Antonio's book is a great starting point. (Review written by Rohit Bhargava)
LINKS AND MORE INFORMATION:
Official Book Website: https://amzn.to/98Xpad
Author's Website: https://www.johngerzema.com
Follow the Author on Twitter at @johngerzema
REVIEW PHILOSOPHY (Why This Review Matters):
All the books that are reviewed in this series are worth your time. That's why you won't find any negative book reviews on this blog. As a Author myself, I have hundreds of book on my shelf and have researched hundreds more. I get many invitations to preview books and choose just one every week to share here on this blog. Read my other book reviews at https://rohitbhargava.com/book-reviews/.