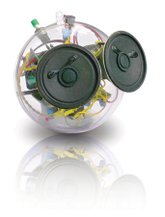 In this month's issued of Wired Magazine, there was a profile of Soundbombs, an innovative new concept designed to merge audio with physical experiences to bring a new dimension to just about anything from billboards to art. As unique as the concept is, the distribution strategy is even more so … with Felix Beck, creator of Soundbombs, noting that "one can apply for the purchase of a Soundbomb – only those who deserve a Soundbomb, get a Soundbomb!" This has created significant viral buzz about Soundbombs and generated more than 2,500 requests according to the Wired article. I love this concept not only for the idea behind it, but also for the distribution strategy that is keeping some amount of control and prestige behind the use of Soundbombs and keeping the artistic integrity of the concept intact.
Contrary to what some might think, I don't believe this means that there cannot be any marketing implications or uses for Soundbombs that fit into the philosophy behind the invention. Rather, this purity of the idea – when associated with the right brands – could create an immensely powerful marketing tool that adds to a customer experience, connects with potential customers, and shows an added dimension to a product, service or experience that could otherwise have been lost. Here are just a few marketing situations I think could be ideal uses for a Soundbomb:
Street Donations for Charities – Imagine if you could amplify the message of volunteers soliciting money for charities by adding a Soundbomb close by offering more information about the cause before passersby are solicited. It would certainly be an interesting social experiment to see if someone on the street is more likely to support Saving Tibet after hearing an emotive plea from the Dalai Lama …
Auditory Tourism – As tourists are walking by historical points of interest, adding Soundbombs could enhance the experience by allowing them to listen to sounds from the past that could be associated with a place. Consider it a vastly more mobile version of the audio phone tour so popular in today's museums.
Virtual Instructions – For interactive kiosks, display stands, and coin-operated machines – sometimes the method of use is not immediately apparent. In these situations, have a voice to proactively answer a common question or simply provide a welcome and offer guidance on the first step could be a welcome addition. At the very least, you could use a Soundbomb to answer the common question of how to make an ATM (which already has braille instructions) easier to find for the visually impaired …
Have any other great marketing applications for Soundbombs that fit with the philosophy of the project? Add a comment to this post and send an email to Felix to see if he agrees.
To learn more about Soundbombs, visit the website or watch a video of how soundbombs work.
Technorati Tags: soundbomb, marketing, advertising, rohitbhargava
Add to: | Technorati | Digg | del.icio.us | Yahoo | BlinkList | Spurl | reddit | Furl