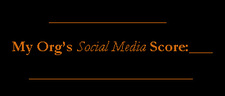 John Bell, founder of our 360 Digital Influence group here at Ogilvy has a great post on his blog about helping organizations understand how to approach social media as part of their overall marketing communications efforts. This is a question we are often asked by clients who see all the movement around them, but also worry about the risk, effort required, and whether the knowledge they have is enough to tackle social media. Yet as we have seen in most of our successful client situations, a company that "gets it" is usually driven by one or two passionate individuals who have decided to lead the charge on social media. It is the inertia to start that is often the biggest barrier. How can you best get over that barrier? Check out John's list of questions to help you find your organization's social media score:
Does anyone within the company already blog?
Do any of these existing bloggers post on business related issues (vs. personal blogs)?
Has senior management stopped making jokes whenever a junior staffer mentions the word "wiki" in a meeting?
Have you ever invited customers or stakeholders to a company meeting just to hear their perspective?
Have you ever published public information – done an interview, released some news, said something publicly – without prior written approval from the legal department?
Is Web publishing decentralized in your organization?
Is the IT department a faciliatator vs.one giant sphincter that everything must squeeze through?
Does your communications team value more than big media clips?
Does your company reward entrepeneurial behavior from within the organization?
Does your C-level leadership (CEO, CMO, COO, etc…) understand the difference between Robert Scoble and Bob Lutz?
Has your marcom team read 30 blog posts from at least 10 blogs?
Has your marcom team downloaded and watched/listened to audio or video podcasts?
Depending on how many of these questions you answered "yes" to, John offers a smart list of ideas for what you might want to try to get started in social media on the Digital Influence Mapping Project blog. So, what's your social media score?