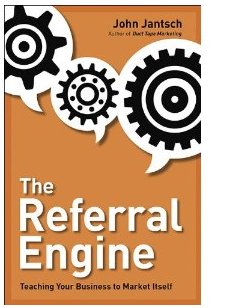 This is the first in a series of posts I have wanted to do for some time, interviewing authors about the big ideas that have led to their books. Here are 5 questions I asked John Jantsch about his new follow up book to Duct Tape Marketing, and how he would describe the big idea of the book to anyone interested in learning about it. It's a short and sweet interview, but hopefully gives you some more insight into the book. Look out for more of these in the future and let me know what you think!
And if you'd like to pick up a copy of The Referral Engine: Teaching Your Business To Market Itself, you can do so here. I only intervew authors who I respect and would wholeheartedly recommend their books, and I definitely think the world of John and what he has been able to achieve offering small businesses a smart and efficient approach to creating better marketing.
1. What's the big idea of the book in less than 140 characters?
Referrals won't happen unless you're referable, but they happen even more with a systematic approach.
2. After reading the book, what is the best compliment or review that a reader could give to you and to the book?
This is more than a marketing or referral book, it's an entirely new approach to building a business.
3. Chances are you probably looked at lots of books before writing this one – what is one unique thing about The Referral Engine that you think sets it apart?
Most books tell you the tactical thing you need to do to get more referrals. This book allows you to build an authentic culture around the customer experience and tap that unique culture with a tactics approach that fits your organization.
4. What was the most surprising thing you learned while researching and writing The Referral Engine?
Nobody talks about boring businesses. Actually, I knew that, but I was surprised at how many businesses underestimate just how boring their business is.
5. As an eventual second time author myself, I'm wondering … is it harder to write the second book, or the first one?
I think it was for me. At some level I was writing Duct Tape Marketing for twenty years. In The Referral Engine I had to work harder at extracting stories and examples that could help illustrate things that all of us have learned over the last couple of years.