Shopping in India can be a bewildering experience. Aside from the completely westernized shopping megamalls that are popping up all over large cities here, there are still thousands of stalls, streetside vendors, underground markets and bazaars selling just about everything imaginable. Lajpat Nagar in Delhi is one of these types of places, full of stores stocking brilliantly colorful clothes, textiles and other materials stacked from floor to ceiling using every centimeter of space in each narrowly designed retail cubicle. Upon first entering the main road here, you are struck by two things … the colorfulness of every store, and the sameness of each store, seeming to sell the exact same materials side by side. Of course, there are differences, but everywhere you go – if you have no destination in mind, picking one store over another seems to be nothing more than a random choice.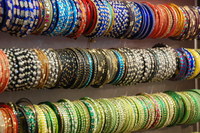 Yet on our experience here, we were not alone. My cousin Dipti, who lives in Delhi came with us. Soon we were settled inside a corner store, selling women's clothes. As my wife started shopping, one of the assistants came running to offer me a seat and a coffee, and another managed to find a Cadbury chocolate bar for my son to keep him happy. Now I can be the first to admit that though I may not be able to tell the difference between one clothing store and another, my wife probably would. The clothes are not exactly the same. But when it comes to churis, that's a different story. Churis are bangles, and as anyone who has seen a woman wearing a sari or lengha knows, they are a necessary accessory. So, predictably, after the clothes shopping was complete, our next stop was the Churi Wala (wala being the Hindi word for someone who sells something).
Churis, unlike clothes, look the same to anyone. All stores have the same ones, buy them from the same place, and even stack them in the same way. What distinguishes churis is what order they are placed in to match with a particular outfit. And the skill of a Churi Wala comes from being able to look at an outfit and match the churis exactly. The Churi Wala we chose was based on the recommendation from my cousin, and we headed straight for his store, located comfortably between about 8 other stores selling exactly the same things.
Our experience was not unique in Lajpat Nagar. It seems that the majority of people that actually walk into a store will be purchasing something. The common retail concept in the US of "just looking" doesn't seem to apply here. As a result, it really pays to take care of every customer that comes in the door. Serve them coffee or tea. Give chocolates to their kids. Going shopping to the right store here feels like coming home – and after a good experience, you are likely to recommend that same home to anyone else. For businesses such as this, word of mouth is the only marketing that works. It is the only marketing they need.