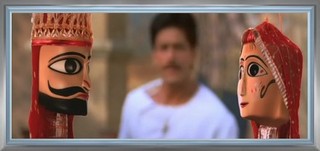 In Jaipur at the Alsisar Haveli, I met a young puppetmaster and his ten year old brother. Together they performed puppet shows outside the main restaurant at the Haveli, with the older brother expertly controlling the puppets with every finger of both hands behind a curtained backdrop, and the younger brother playing the dholak in accompaniment. Afterwards, I spoke with them about their craft and bought two puppets. Despite having a great location and relative monopoly on all visitors to the Haveli, he shared a common plight of the puppetmaster in India … no one buys puppets anymore. He blamed his situation on the Bollywood star Shahrukh Khan and the Bollywood film, Paheli. In the film, puppets are portrayed negatively as ghosts and almost overnight after the film came out, puppet sales plummeted.
You may be thinking that this could have been the isolated effects of a single popular film, but consider that the headline in one of the main newspapers in India today is about two young men who died after trying to recreate a motorcycle stunt from the recently released film Dhoom-2, and there is even a vibrant discussion happening on indian blogs now about the case of a man suing actors Hrithek Roshan and Aishwairya Rai for indecent exposure because of a kissing scene (considered taboo in Bollywood films) between the stars in the film. Clearly, Bollywood films exert a special influence on the culture here, making or ruining the livelihood of thousands, inspiring youth to take stupid risks, and even ruling the top ten music charts with songs from films taking the majority of the spots.
If you haven't seen a real Bollywood film, the typical formula is a three hour (minimum) extravagant films with several musical numbers (whether relevant to the plot or not), multiple outfit changes, and at least one Shaadi (Indian wedding). There really is no film experience quite like it, and despite the efforts of many to redefine Indian filmmaking as more than just films with the "Bollywood formula," here in India, Bollywood is still king. In a media culture so driven by films, the marketing is also influenced heavily by these releases.
Everywhere on the street, you can see billboards, postings on auto rickshaws, and signs about films featuring photos and drawings of stars. On television, there are short 30 second (or shorter) segments from the large dance sequences of each film, used as trailers to encourage you to see the film and implant the signature song into your head. There are product tie-ins as well, with Coke running ads featuring Hrithek Roshan and a brand of engine oil advertising along with previews of stunts from Dhoom 2. Contrary to the US culture, which is moving towards a more fragmented media where niche channels are growing in importance, major Bollywood film releases (featuring all the top stars) still draw guaranteed audiences and offer huge marketing opportunities. The Golden Age of Hollywood may have passed, but Bollywood's Golden Age in India seems to be here and now.
Note: This post is the first in a series of observations about marketing in India during my travels over the past few weeks in Delhi, Jaipur, Goa and Mumbai that will be published on the Influential Interactive Marketing blog over the next few days.