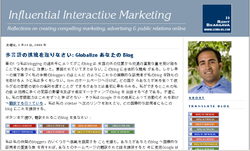 One of the things I have noted over the past year of blogging is that this blog receives a significant amount of traffic from locations outside of the US. Intended or not, this blog has a global audience. But like most of my fellow bloggers based in a single country, I don't do much to help these international visitors read my blog. Go to the IBM homepage, and you will first be asked which country you come from so they can deliver their site in the right language. My version of this is to publish the Influential Interactive Marketing blog in as many languages as I can. Unfortunately, my linguistic ability does not stretch this far – so I'm going to use automated help from Google Translate. I am adding the following links to my sidebar, and offer this to any international visitors to this blog.
Select a button below and see this blog translated:
I'd like to propose a challenge to some of my fellow bloggers. If you have a significant number of international visitors to your blog, use Google Translate to offer translated versions of your homepage. Let's all see if this makes a difference in globalizing our efforts and generating more international discussion.
How to Participate:
Go to Google Translate to get URLs for translated pages of your blog
Optional: Download country buttons in a ZIP File [right-click save as]
Add these buttons (or just text links) to your sidebar or somewhere on your blog
Post about it on your blog and tag your post "multilingual challenge"
Tags: multilingual challenge, multilingualchallenge, googletranslate, translate, globalization