The Unexpected Truth Behind Earning Trust, Influencing Behavior, and Inspiring Action
by Rohit Bhargava
Likeonomics is a new book about why some people and companies are more believable than others and why likeability is the real secret to being more trusted, getting more customers, making more money – and perhaps even changing your life.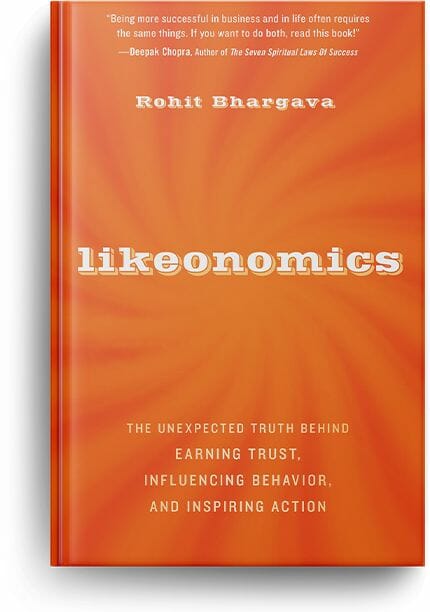 "Being more successful in business and in life often require the same things.
If you want to do both, read this book!"
DEEPAK CHOPRA,
author of The Seven Spiritual Laws Of Success
"Rohit Bhargava's wise and wonderful book proves that your mother was right, after all: People respond to those who treat them right. Companies and organizations need to heed this lesson and use Likeonomics to steer their thinking on ways to become more open, accessible, and trustworthy in the marketplace—and find success doing it."
DANIEL H. PINK,
Author of DRIVE and A WHOLE NEW MIND
"In this highly entertaining book, Rohit Bhargava proves just how important being likeable is to making a compelling argument. For anyone who needs to be persuasive, deliver a great presentation or just inspire anyone else-Likeonomics will help you do it."
NANCY DUARTE,
CEO of Duarte and Author of Slide:ology & Resonate
"Likeonomics is the How to Win Friends and Influence People for a new generation. Rohit shows us how to be more likeable and believable, and as a result, more popular and relevant, which are the keys to success in any endeavor. Highly recommended."
MICHAEL PORT,
NY Times Bestselling Author of The Think Big Manifesto
"Likeonomics explains the importance of great relationships and building long-lasting, enduring brands."
TONY HSIEH,
NY Times bestselling author of Delivering Happiness and CEO of Zappos.com
"A fascinating look at the unexpected science and power of likeability to sway our beliefs and decision making. I loved the idea behind this book!"
ORI BRAFMAN,
Coauthor of Sway and Click
"Rohit has hit the nail squarely on the head in terms of showing how we can better work with others to improve our chances of success in all that we do. He demonstrates through real-world examples why being liked is so critically important. "Likeability" in the public affairs community, whether military or civilian, is critical to one's success. If you can't work and play well with others, no matter what your credentials, the results you hope to achieve will often be beyond your grasp. The views expressed are my own and do not reflect the official policy or position of the United States Army, Department of Defense, or the U.S. Government."
COLONEL KEVIN V. ARATA,
US Army
"It's true. Likeability matters. Rohit Bhargava brilliantly and succinctly explains why likeability and authenticity are central to creating a trustworthy brand. In a cynical world where people are looking for things and individuals they can believe in, "Likeonomics" is a roadmap for growing your business."
KAREN KERRIGAN,
President, Small Business & Entrepreneurship Council
LIKEONOMICS IS BOOK ABOUT HOW LIKEABILITY IS THE SECRET TO BUILDING REAL TRUST
Every day amazing products fail, qualified candidates don't get hired and world changing ideas die. The fact is, having the best resume or the strongest list of features doesn't always guarantee success. Welcome to the world of Likeonomics, where deals are made on golf courses, likeability often trumps competence and the most important skill anyone can learn is how to build deeper and more trusted personal relationships in business and life.
But it is NOT about just being nice. By weaving together cutting edge psychological research with real life stories of everything from the shocking moment when Oprah gained the trust of a nation to the unusual tourism policies of the Bhutanese government, Likeonomics offers a convincing argument for why likeability matters more than ever in a social media enabled world. Whether you are trying to grow your business, win an election or find your next job – and this book will help you do it.
#1 Amazon Marketing Best Seller
#7 Best Selling Business Book In America – Neilsen BookScan (week of launch)
"2012 Best Marketing/Sales Book Award" Shortlist – 800CEORead