15 Surprising Secrets for Killing it at Work and in Real Life
by Rohit Bhargava
A human, entertaining and irreverent look at what it really takes to succeed in today's world … based on the stories and experiences of five time best selling author and internationally recognized keynote speaker Rohit Bhargava.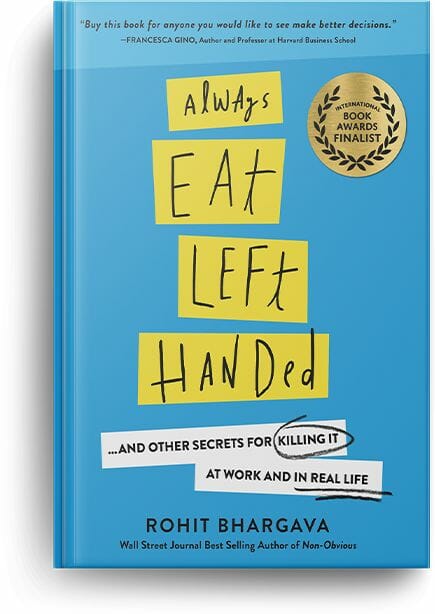 ""A rare treat with an illuminating point of view you probably haven't heard before. I adored this book."
NANCY DUARTE,
CEO of Duarte, Inc. and best-selling author
"The opposite of any career advice book I've ever read … a jolt of brutal honesty."
BEN TUBUO,
Manager of Supplier Diversity – Walt Disney Company
"A counterintuitive, smart, and entertaining career guide that's relevant - and necessary - for today."
DORIE CLARK,
author of Reinventing You and Stand Out, and adjunct professor at Duke University's Fuqua School of Business
"Good for the world-weary young millennial, who has had it up to their eyeballs with well-meaning advice."
GABRIELLA MIRABELLI,
CEO ANATOMY & Host Up Next Podcast
"A unique and actionable guide on how to build the network you've always dreamed of."
CLARA SHIH,
Founder and CEO of Hearsay and Member, Starbucks Board of Directors
"A powerful little book that will help you break down barriers, stand out and get the success you deserve."
GLORIA BELL,
Co-Founder, Women in Tech
"This book will entertain and inspire you to be more intentional about how you find joy and success."
MALLIKA CHOPRA,
Author of Living With Intent
"This engaging book lays out the secrets anyone can use to get ahead - simply by being a little different."
MELANIE NOTKIN,
founder and bestselling author of SAVVY AUNTIE and Otherhood
Always Eat Left Handed is a 
for people surrounded by obvious advice.
Always Eat Left-Handed is an entertainingly irreverent help-self book from Wall Street Journal bestselling author and occasional Georgetown University professor Rohit Bhargava filled with brutally honest secrets of success no one has ever dared to tell you.
Start smoking?
Be a cross-dresser?
Procrastinate more?
Make people cry?
Learn to yodel?
Reading just a few of these "secrets," you might wonder if this book is serious. Indeed, it is.
Through a bite-size collection of 15 quirky and insightful stories told in a highly readable non-boring style, you'll learn how to:
Think faster on your feet when things go wrong
Be the type of person everyone wants to work with
Get better at starting (and ending) conversations
Find resilience after failure without losing optimism
Stand out by being the most approachable person in any room
For anyone sick of hearing you should do what you love, take more risks and make mistakes, this empowering book is like a desperately needed pair of noise-canceling headphones for uselessly obvious advice. Instead, Always Eat Left Handed offers a real world, no-nonsense playbook for getting ahead in school, work and life by doing exactly the opposite of what most people tell you. Starting, of course, with eating left handed.

Over 25,000 copies downloaded! (First Edition)
ALL NEW SECOND EDITION IN PRINT FOR THE FIRST TIME!
#1 Best Selling Self Help > Happiness Book On Amazon (First Edition)
#1 Best Selling Business > Careers > Job Hunting On Amazon (First Edition)