One of my favourite holdover sites from the dot-com era that is still around today is Spun.com. I have always loved the idea of creating used cd and dvd store online for people to sell their old stuff and use credits to buy new stuff. I think I still have a spundex somewhere. I came across Peerflix.com the other day – a slightly competing effort (though limited to just dvds). The site uses credits as proxy for getting the movies you want and allows you to keep a wish list online. Both sites offer similar services based on an earned credit system – but the difference of interfaces and communications strategies underscores the evolution of successful online services from infancy to maturity:
Spun.com … as the old dying Dot-com style service
Static quotes from traditional media like USAToday to establish credibility
About us section only has company description and exec bios
Homepage is focused on the sell in a traditional ecommerce model
Site does not address digital media or include the consumer/editorial voice on the site
Uses old terms no longer relevant to describe itself, such as a "Napster for physical media"
Defines it's service in business terms rather than consumer terms as having a "dynamic pricing formula" and "high margins" – descriptions unlikely to resonate with consumers
Peerflix … as the new challenger using consumer media and word of mouth to market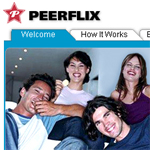 Includes consumer generated content features such as movie rating and editorial reviews
Offers a full range of quotes from print, broadcast, and blogs, with direct links to all reviews to establish credibility of service
Main channel to communicate about the service is through a Peerflix Blog, which focuses on what's hot in their network and trends in the entertainment industry (such as Oscar Winners)
Homepage offers a intro the site, and focuses on free trial, demo, and getting new users
Interactive paparazzi game used as a promotion to demonstrate the "fun factor" of Peerflix – also has a viral effect where people will pass this to friends and family
Leverages current users by asking them to become evangalists and invite others to join, offering an incentive of a free DVD player to customers who help them
Peerflix illustrates that creating viral elements, demonstrating the fun factor, and asking current customers to become spokespeople (and being willing to reward them for it) is the new model for online services. As much as I like the idea behind Spun.com – unless they start to figure out what Peerflix already knows … they won't be around for too much longer.