Yesterday I had a chat with Konrad Feldman, one of the co-Founders of a company called Quantcast that quietly launched an online measurement tool about two months ago which is currently in beta mode. The tool is one of the first free resources I have seen focused on offering a complete picture of audience composition for just about any site. In the past, I have found Alexa.org (the main competitor for free data) to be notoriously unreliable, and other options such as Nielson Netratings and Comscore are wonderfully thorough – but often out of the price range for many smaller organizations and clients (and therefore not as widely used). The beauty of Quantcast's solution is in the dashboard view (see screenshots below) that allows you to now compare sites large and small to one another. In speaking with Konrad, a key challenge he noted for advertisers is finding large pockets of a particular audience on sites beyond the top tier media properties. For smaller publishers, the corresponding challenge is that they cannot field a large sales force to promote their sites and therefore must rely on online channels.
Good media planning is an art – but when it comes to interactive many media planners are taking the easy way out … simply skimming the surface, picking the largest sites in a particular category without much thought. Aside from the inventory glut this is creating on the largest players, it is also leaving a large number of sites either ignored, or only approached by the saaviest of interactive media planners. The mission of Quantcast, as Konrad described, was to even the playing field by allowing advertisers easier access to consistent data, and giving publishers more visibility from advertisers and the chance to be judged based on metrics and quantifiable data. Taking Quantcast for a spin, it's obvious there is lots of potential in this tool. As Quantcast gets more sites to become "quantified" by registering their site and adding a tracking GIF – this data will continue to improve. In the meantime, the site is already a very useful tool for anyone looking to better understand audience figures across a range of sites and verify the inflated numbers some sites have put out to entice advertisers. Keeping publishers honest and helping advertisers think outside of the box … seems like a great combination to me.
Note: For a more PR centric view of the potential uses for Quantcast, check out my post on the Ogilvy 360 Digital Influence blog.
Screenshot of Audience Data for www.dooce.com: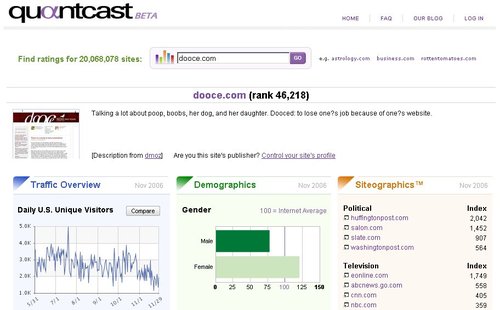 Screenshot of Comparison Data for ESPN, Paypal, MTV, Macys and Target: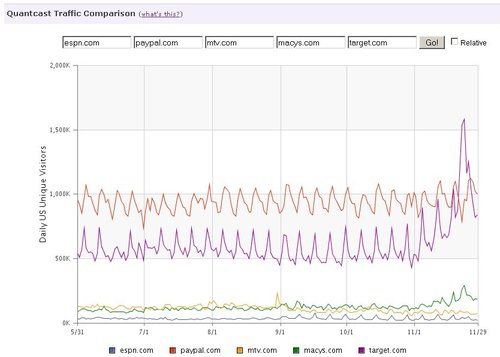 Screenshot of Audience Data for YouTube.com: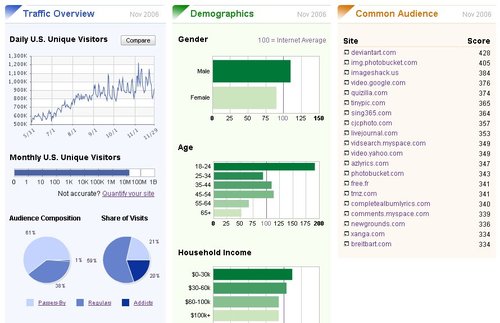 technorati tags: quantcast marketing advertising webanalytics measurement metrics youtube dooce rohitbhargava interactivemarketing
del.icio.us tags: quantcast marketing advertising webanalytics measurement metrics youtube dooce rohitbhargava interactivemarketing