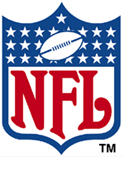 I used to love Tuesday afternoons in Sydney. In the middle of October, (heading into summer down under) every Tuesday at 11am I would make my way to the nearest sports bar – and stay for a three hour lunch everytime I could manage it. Because of the time difference, that was my Monday night football. Since coming back to America, I have realized that over the past ten years (including the five I missed while living in Australia), the NFL has become much more than a sport. It has become one of the most powerful brands in America. Of course, the passion evoked by sports helps just about every sport with enthusiastic followers. But somehow, the NFL stands above all sports in this country. Case in point, even people who don't watch football watch the Super Bowl (they may watch for the ads, but there's a reason the Super Bowl gets those ads). Kids may grow up playing soccer and baseball – but they love football. How has this brand been built beyond every other sports brand, and many corporate brands as well? Several reasons:
Fantasy Football – A brilliant use of the online medium, fantasy football takes the average fan and puts him (or her) into the driver's seat, choosing their own players from any team and making decisions on who to play every week. The result: A broader connection with the sport where football fans care about every game every week, and not just the game involving their team.
NFL in Advertising – Beer and cars are the two most frequently advertised products during football games in America, and at least half of the ads are tied in some way to football, showing images of people watching games, or satires of referees. Fedex, Budweiser, Southwest Airlines and Coors are just a few large advertisers running spots with tie-ins to the sport. The result: Further reinforcement of how large a part the sport and brand play in each of our lives.
NFL Network – While other sports may launch deals with cable companies to cover every game being played at any time, the NFL promotes their own cable network which not only provides commentary on the current season, it also focuses on the nostalgia of the past 50 years of football. Many recent ads even feature Tony Gonzalez, a hispanic player, talking in spanish to the hispanic youth of America encouraging them to play football. The result: Fostering the emotional connection with the sport that is passed down from generation to generation.
How many other brands can we point to which make a similar emotional connection and have the powerful appeal of the NFL? For anyone working on brand marketing, sports or otherwise, the NFL offers a model worth studying.