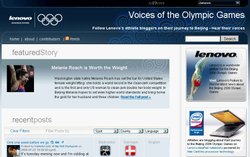 For any die-hard Olympic enthusiasts like me, you already know that today is a special day. It's exactly one month from the beginning of the Summer Olympic Games in Beijing (on 08/08/08) and media attention is already starting to turn towards these Games in a more frenzied way. For several months now, I have been part of the team here in Ogilvy's 360 Digital Influence group working on what I believe will be one of the most unique Olympic sponsorships of the coming games. Of course, I'm biased since I work on the campaign, but yesterday we started to spread the word about a new campaign that I have mentioned already once before on this blog.
The campaign is called The Voices of the Olympic Games and over the past several months we have recruited 100 athletes from more than 25 countries and more than 30 sports to all blog about their experiences leading up to the games. Our campaign strategy, in a sentence is:

Use Lenovo products to power athletes sharing their real experiences leading up to and during the Olympic Games directly with fans around the world.
There are several reasons why I'm really excited about this campaign. The most obvious is that as part of it, I will be heading to Beijing to offer a live voice – something I can't wait to do. More than that, however, the scale of this project and bringing this many real voices together from so many different cultures and sports is a much needed view of the Games that will be unique in its lack of melodrama. None of our blog posts will be set to sappy overture-style music, and the stories we have are all an unfiltered view directly from the athletes that are competing.
Along with our site aggregating all these voices at https://summergames.lenovo.com, we are also going to be using a live Twitter feed (@lenovo2008), Flickr, del.ici.ous, and there is a Facebook application created in partnership with Citizen Sports that has already topped 60,000 downloads. I'll be blogging lots more about the Olympics, but for now please check out our site and let me know what you think. We've got another month to put the finishing touches on it before Opening Ceremonies!

Campaign Mentions & Buzz (leave a comment if you'd like to be added to this list):