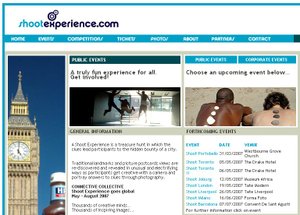 Over the weekend I revisted ShootExperience, a site that has the really interesting premise of getting people together in a single location at a set time to photograph in a community and share images. Describing their mission as "helping people to rediscover their everyday environment and lives through photography," the site has launched the Connective Collective – a project designed to engage photographers across the world to share images around the central theme of WATER. I love the ambition of this project and the concept behind the site – but the payoff of a Global Exhibition or winning online contests seems surprisingly traditional. What about using the power of social media to amplify this idea even further?
Essentially, through their series of events – Shoot Experience has introduced what I would call a "creationstorm." A creationstorm is a call for individuals to participate in an event where they create imagery, video or text around a particular theme or topic and contribute it to a single location. The real power of this concept is in how it amplifies the trend of users creating content by focusing a group of individuals on a specific location or theme within a specific time. Imagine if all the photographs from the upcoming Shoot Toronto event were not only uploaded online, but also tagged in Flickr and del.icio.us, linked to reviews on Yelp, added to the Wikimapia project, offered as resources for filmmakers at TurnHere, and optimized for image searches on Google and other search engines. This is the power of creationstorms.
For marketers in the travel and tourism industries, running their own creationstorms could become the key to building rich user generated content around a particular destination and offer hungry travellers images, stories and even video to consume as part of any online travel or entertainment related query. There are lots of other marketing possibilities with this. Imagine Starbucks launching their own creationstorm to get consumers worldwide to catalog every Starbucks location into a single gallery (or any retailer for that matter). Hotel chains, local tourism boards, restaurants and tourist attractions all are other examples of services that could benefit from running their own creationstorms to fill the content void online. The folks at Shoot Experience are already onto the potential of these creationstorms for corporate clients as team building or as part of PR and marketing activities. If you amplify this idea with social media, it's easy to see that creationstorms have the potential to ignite the co-creation movement and help marketers harness this force at the same time.
About the Idea Bar:
Working in a creative team, the life of our business is new ideas. We come up with them every day for clients, but sometimes there are ideas that just don't fit a client. They are too big, too different, or just not quite right. Inspired by my colleague John Bell, the IdeaBar is a category of posts that are meant to be "open source" and offer new ideas for marketing. Read more IdeaBar posts on this blog.