My life would be a lot easier if I loved case studies. After all, they are all around me. In our agency, we produce case studies for our most successful work. Clients share case studies of previous work or industry standards with us all the time. In the educational world case studies are plentiful, and the majority of "practical" marketing and business courses are built entirely on using them to teach principles. So why don't I love them like so many of my peers do?
It's not that I don't believe you can learn a lot by studying other industries and other campaigns. But when it is packaged into a typical "case study" format, there are a few common problems that arise:
People are often not good at self diagnosing what worked well and what didn't, and case studies are often not written by the same people who executed a strategy either – which results in second hand information.
Case studies mostly focus on the positive or successful, but often we learn most from failures. Have you ever seen or written a "case study" on something that failed?  We need to see more case studies of what didn't work so we can learn from failure as well as success.
They are often written in a siloed way – looking only at individual channels (such as social or advertising or PR) and missing the broader point of integration and how it contributed heavily to their success in the first place.
The core behavioural insight is often missing in reports and case studies (ie – WHY did people respond to a particular message or approach as opposed to simply noting that they DID respond)
Results are often be presented in terms of numbers and volume does not necessarily proove effectiveness when it comes to actual impact achieved
Real first hand expertise is often missing because case studies may not be written by the person or people with the most direct knowledge of why something worked or didn't.
So are traditional case studies useless? Not at all, but I think there are much better opportunities for learning in a different way. The most powerful way to learn in many ways is still a face to face experience with a person – and when you couple that with real engaging experts who are actually DOING great things, then you have the type of experience that can really offer the most valuable learning. 
That's why I'm thrilled to announce two events coming up that I've agreed to participate in as a speaker coming up very soon.  Both offer amazing opportunities to go beyond the case study and learn something real and actionable from experts who are actually doing real and amazing work:
WOM Crash Course (Austin – May 10, 2012)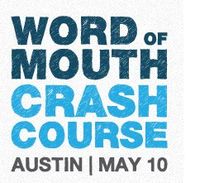 The one thing I know for sure is that Andy Sernovitz knows how to put on a great word of mouth learning event. He and his team remain unromanced by the allure of just focusing on social media … which means this event is one of those unique moments when you will learn how to ACTUALLY create great word of mouth by using social media along with lots of other tools. From his unique format of having only real practioners present to his unique lunchtime sessions where six authors all show up to simply have conversations (no powerpoints allowed!), attendees always rave about this event. If you want to join us in the great city of Austin, just leave a comment on this post for a 25% off registration discount code – and the first 2 readers to comment will receive 50% off registration!
Corporate Social Media Summit (New York – June 13-14, 2012)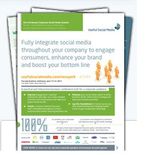 The fact that I have worked with the Useful Social Media events team for the past 3 years and agreed to speak or moderate sessions at multiple events for them is evidence of one thing: this team knows how to put on a great learning event. What sets the Corporate Social Media Summit apart is their laser focus on social media for big brands. If you work at a large organization trying to plan for using social media at an enterprise level, this event is for you. The speakers are all from big brands (just look at the agenda!) and the conference stays far away from any fluff or vendor pitches. In the past, the hallway conversations from attendees learning from one another have been just as powerful. To get a 10% discount on registration, use the code "OGILVY10"
Whether I was participating in both or not – I highly recommend trying to make it to one or both of these events. Hope to see you there!*
*There is also chance that all attendees of one or both events will get free copies of my new book Likeonomics!