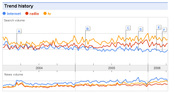 Since websites have become primary information sources about companies and products in the late 90s, integrated marketing teams have been using web analytics to mine data about users and translate this into trend information and ammunition for testing the usability of websites. One metric in particular that almost all marketing teams pay attention to are the key search terms people are using to get to their site. In part, this drives the creation of a search marketing strategy. With Google's recent launch (covered in Google Blogoscoped) of Google Trends – the ability to mine consumer preferences and understand motivations is getting better, and moving beyond just web analytics. For years, I have been using Overture's search suggestion tool – a relatively stripped down and outdated, but highly useful, tool for measuring search volume of phrases. Unfortunately, the tool is limited to using historical data, not accounting for any volume spikes due to current events.
With Google Trends, you can not only view real time search phrase volume (and compare it to news volume), you can also get a geographic snapshot of where this volume is coming from. Some interesting data I was able to mine instantly from the system included:
Just like the free Blogpulse tool, it's a great way to add relevant and impressive data charts to any presentation. Not to mention one of the few interesting online tools able to offer global consumer insight. This should be a highly valuable resource for anyone in marketing, especially those with global brand responsibilities.