For the past several months our team at Non-Obvious has been quietly devouring all the books that have come in as submissions for our annual book awards program. It's always a magical time to have so many books coming in every day and to see just how diverse the topics happen to be.
This year's selections for the Longlist are our widest range of titles yet, from another hugely competitive year. We considered more than 1000 books published this past year (our award window runs from 11/01/22 to 10/31/23) and our 100 top books range from more than 60 different publishing imprints and authors from all over the world.
In our curated list below – you'll read about everything from the future of disability to life lessons from a master carpenter. You will get advice on living from an obituary writer, take a deep dive into pockets, discover how parking shapes the world, see why we need to protect bookstores and tour the underappreciated world of Afrofuturism.
These are just a handful of the books on our Non-Obvious Longlist and they are all the books you didn't know you need to read. The full list is below, along with a few useful links for you to discover more about our awards, methodology and even browse some of the wonderful past winners of our book awards program over the last eight years.
The 2023 Inc Non-Obvious Book Awards Longlist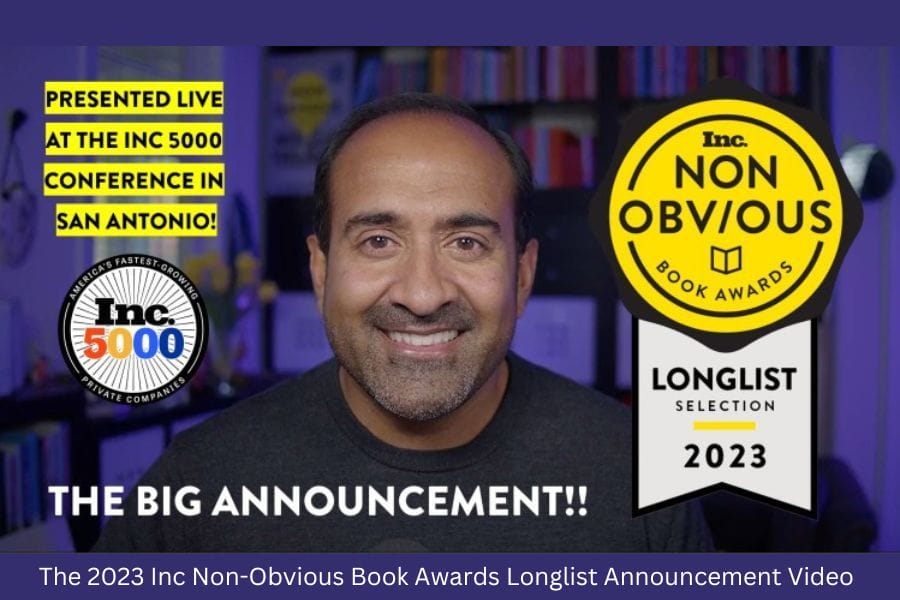 A City on Mars – Can we settle space, should we settle space, and have we really thought this through? | Kelly Weinersmith and Zach Weinersmith
Afrofuturism – A History of Black Futures | Kevin M. Strait, Kinshasha Holman Conwill, Kevin Young and Vernon Reid
Against Technoableism – Rethinking Who Needs Improvement | Ashley Shew
Awaken Your Genius – Escape Conformity, Ignite Creativity, and Become Extraordinary | Ozan Varol
Back to the Futures – Crashing Dirt Bikes, Chasing Cows, and Unraveling the Mystery of Commodity Futures Markets | Scott H. Irwin and Doug Peterson
Big Bets – How Large-Scale Change Really Happens | Dr. Rajiv J. Shah
Black Founder – The Hidden Power of Being an Outsider | Stacy Spikes
Breaking Free – The Lie of Equality and the Feminist Fight for Freedom | Marcie Bianco
Build a Better Business Book – How to Plan, Write, and Promote a Book That Matters. A Comprehensive Guide for Authors | Josh Bernoff
Building – A Carpenter's Notes on Life & the Art of Good Work | Mark Ellison
Centered – People and Ideas Diversifying Design | Kaleena Sales
Clear Thinking – Turning Ordinary Moments into Extraordinary Results | Shane Parrish
Code to Joy – Why Everyone Should Learn a Little Programming | Michael Littman
Crossings – How Road Ecology Is Shaping the Future of Our Planet | Ben Goldfarb
Do/ Interesting/ – Notice. Collect. Share. | Russell Davies The Do Book Co.
Doppelganger – A Trip into the Mirror World | Naomi Klein
Emotional Labor – The Invisible Work Shaping Our Lives and How to Claim Our Power | Rose Hackman
Encounterism – The Neglected Joys of Being in Person | Andy Field
Everyday Dharma – 8 Essential Practices for Finding Success and Joy in Everything You Do | Suneel Gupta
Excellent Advice for Living – Wisdom I Wish I'd Known Earlier | Kevin Kelly
Extremely Online – The Untold Story of Fame, Influence, and Power on the Internet | Taylor Lorenz
Fool Me Once – Scams, Stories, and Secrets from the Trillion-Dollar Fraud Industry | Kelly Richmond Pope, CPA
For the Culture – The Power Behind What We Buy, What We Do, and Who We Want to Be | Dr. Marcus Collins
Generations – The Real Differences Between Gen Z, Millennials, Gen X, Boomers, and Silents―and What They Mean for America's Future | Jean Twenge
Happiness Is Overrated – Simple Lessons on Finding Meaning in Each Moment | Cuong Lu
Hidden Genius – The secret ways of thinking that power the world's most successful people | Polina Marinova Pompliano
Hidden Potential – The Science of Achieving Greater Things | Adam Grant
How Big Things Get Done – The Surprising Factors That Determine the Fate of Every Project, from Home Renovations to Space Exploration and Everything In Between | Prof. Bent Flyvbjerg & Dan Gardner
How to Make Money – A New, Honest Guide to Starting and Building a Six-Figure, Successful Business | Nafisa Bakkar
How to Protect Bookstores and Why – The Present and Future of Bookselling | Danny Caine
How to Think Like a Woman – Four Women Philosophers Who Taught Me How to Love the Life of the Mind | Regan Penaluna
How to Work with (Almost) Anyone – Five Questions for Building the Best Possible Relationships | Michael Bungay Stanier
How Work Works – The Subtle Science of Getting Ahead Without Losing Yourself | Michelle Penelope King (PhD)
I Hope You Fail – Ten Hater Statements Holding You Back from Getting Everything You Want | Pinky Cole
Knowing What We Know – From the First Encyclopedia to Wikipedia | Simon Winchester
Look – How to Pay Attention in a Distracted World | Christian Madsbjerg
Magic Words – What to Say to Get Your Way | Jonah Berger
MCU – The Reign of Marvel Studios | Joanna Robinson, Dave Gonzales and Gavin Edwards, Marvel Entertainment
Misbelief – What Makes Rational People Believe Irrational Things | Dr. Dan Ariely
Mixed Signals – How Incentives Really Work | Uri Gneezy
More Numbers Every Day – How Data, Stats, and Figures Control Our Lives and How to Set Ourselves Free | Micael Dahlen and Helge Thorbjørnsen
NFTs Are a Scam/ NFTs Are the Future – The Early Years: 2020-2023 | Bobby Hundreds
Nobody's Fool – Why We Get Taken In and What We Can Do About It | Daniel Simons and Christopher Chabris
On Being Unreasonable – Breaking the Rules and Making Things Better | Kirsty Sedgman
Once Upon a Tome – The Misadventures of a Rare Bookseller | Oliver Darkshire
Ordinary Notes | Christina Sharpe
Outrage Machine – How Tech Is Amplifying Discontent, Undermining Democracy, and Pushing Us Towards Chaos | Tobias R.
Outsmart Your Brain – Why Learning is Hard and How You Can Make It Easy | Daniel T. Willingham Ph.D
Paved Paradise – How Parking Explains the World | Henry Grabar
Pockets – An Intimate History of How We Keep Things Close | Hannah Carlson
Poverty, by America | Matthew Desmond
Quiet Street – On American Privilege | Nick McDonell
Radical Inclusion – Seven Steps to Help You Create a More Just Workplace, Home, and World | David Moinina Sengeh
Reimagine Inclusion – Debunking 13 Myths To Transform Your Workplace | Mita Mallick
Right Kind of Wrong – The Science of Failing Well | AMY C. Edmondson
Saving Time – Discovering a Life Beyond the Clock | Jenny Odell
Saying NO to a Farm-Free Future – The Case For an Ecological Food System and Against Manufactured Foods | Chris Smaje
Selfless – The Social Creation of "You"| Brian Lowery
Size – How It Explains the World | Vaclav Smil
SLAY the Bully – How to Negotiate with a Narcissist and Win | Rebecca Zung
Soul Boom – Why We Need a Spiritual Revolution | Rainn Wilson
STFU – The Power of Keeping Your Mouth Shut in a World That Won't Stop Talking | Dan Lyons
The Anxious Achiever – Turn Your Biggest Fears into Your Leadership Superpower | Morra Aarons-Mele
The Canceling of the American Mind – Cancel Culture Undermines Trust and Threatens Us All―But There Is a Solution | Greg Lukianoff and Rikki Schlott
The Case for Good Jobs – How Great Companies Bring Dignity, Pay, and Meaning to Everyone's Work | Zeynep Ton
The Coming Wave – Technology, Power, and the Twenty-first Century's Greatest Dilemma | Mustafa Suleyman and Michael Bhaskar
The Defiant Optimist – Daring to Fight Global Inequality, Reinvent Finance, and Invest in Women | Durreen Shahnaz
The Four Workarounds – Strategies from the World's Scrappiest Organizations for Tackling Complex Problems | Paulo Savaget
The Future is Disabled – Prophecies, Love Notes and Mourning Songs | Leah Lakshmi Piepzna-Samarasinha
The Future of the Responsible Company – What We've Learned from Patagonia's First 50 Years | Vincent Stanley and Yvon Chouinard
The Golden Screen – The Movies That Made Asian America | Jeff Yang
The Identity Trap – A Story of Ideas and Power in Our Time | Yascha Mounk
The Long View – Why We Need to Transform How the World Sees Time | Richard Fisher
The PARA Method – Simplify, Organize, and Master Your Digital Life | Tiago Forte
The Perennials – The Megatrends Creating a Postgenerational Society | Mauro Guillén
The Power of Empathy – A Thirty-Day Path to Personal Growth and Social Chang | Michael Tennant
The Power of One – How I Found the Strength to Tell the Truth and Why I Blew the Whistle on Facebook | Frances Haugen
The Power of Saying No – The New Science of How to Say No that Puts You in Charge of Your Life | Vanessa Patrick
The Power of Wonder – The Extraordinary Emotion That Will Change the Way You Live, Learn, and Lead | Monica Parker
The Problem of Twelve – When a Few Financial Institutions Control Everything| John Coates
The Real Work – On the Mystery of Mastery | Adam Gopnik
The Right Call – What Sports Teach Us About Work and Life | Sally Jenkins
The Second in Command – Unleash the Power of Your COO | Cameron Herold
The Song of Significance – A New Manifesto for Teams | Seth Godin
The Status Revolution – The Improbable Story of How the LowBrow Became the Highbrow | Chuck Thompson
The Teachers – A Year Inside America's Most Vulnerable, Important Profession | Alexandra Robbins
The Theory of Everything Else – A Voyage Into the World of the Weird | Dan Schreiber
The Wisdom of the Bullfrog – Leadership Lessons Made Simple (But Not Easy) | William H. McRaven
Turnaround Time – Uniting an Airline and Its Employees in the Friendly Skies | Oscar Munoz
Unmasking AI – My Mission To Protect What Is Human In A World of Machines | Joy Buolamwini
Upshift – Turning Pressure into Performance and Crisis into Creativity | Ben Ramalingam
Walking with Sam – A Father, a Son, and Five Hundred Miles Across Spain | Andrew McCarthy
What Is ChatGPT Doing … and Why Does It Work? | Stephen Wolfram
When Race Trumps Merit – How the Pursuit of Equity Sacrifices Excellence, Destroys Beauty, and Threatens Lives | Heather Mac Donald
Win Every Argument – The Art of Debating, Persuading, and Public Speaking | Mehdi Hasan
Working to Restore – Harnessing the Power of Regenerative Business to Heal the World | Esha Chhabra
You Will Own Nothing – Your War with a New Financial World Order and How to Fight Back | Carol Roth
Your Brain on Art – How the Arts Transform Us | Susan Magsamen & Ivy Ross
Your Face Belongs to Us – A Secretive Startup's Quest to End Privacy as We Know It | Kashmir Hill
Yours Truly – An Obituary Writer's Guide to Telling Your Story | James R. Hagerty