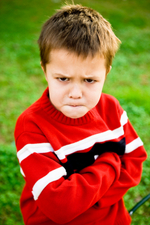 At SXSW yesterday, I ran a "core conversation" called 10 Easy Ways to Piss Off a Blogger. This year at SXSW, these aptly titled "conversations" were a type of speaking slot where there was a round table and the challenge of engaging people in a discussion about a particular topic. Mine was one close to my heart … the best way to piss off a blogger. I had created a Facebook event page before the session to try and build the buzz and going into yesterday I had almost 50 people signed up. So I figured we'd get about 20 to 25. After the session, I spoke to one of the participants who said he counted about 70 – so we had a really tough challenge of having a conversation with 70 people.
Learning from some of the feedback that came from a panel on Social Media Metrics that I had participated in a day earlier, my main aim was to make sure everyone walked out of the session with what I had promised them … the 10 easy ways. The format of the session was a bit different too – as there was no presentation or powerpoint, and I didn't walk in with the 10 ways. Instead our aim was to collaborate, discuss and walk out with the ten. I think we managed to make it to more than ten. A few folks kindly offered to take some live notes and have posted about the ten, but without further ado … here are the 10 Easy Ways to Piss Off a Blogger, as defined by a group of super smart and engaged folks who all made it to be part of this conversation:
Invite bloggers to participate in something and don't give them a chance to talk about themselves. This was what I opened the session with, followed by letting people around the group introduce their name and their blogs. A list of people who chose to share their names and blogs is at the end of this post.
Pretend to be a "long time reader" when you actually just visited the blog once and read a few posts.
Use a blogger's content or identity without giving proper attribution
Send irrelevant information that exhibits no understanding of what they care about or fail to personalize it
Add them to a PR list and don't let them get off of it
Make it hard for them to link to something by hiding your content behind usernames/passwords, giving them uncertain directions or requiring them to take multiple steps
Ask for favors as part of your first outreach to them without building a relationship or earning the right to ask them to help you
Fail to identify yourself or falsely represent yourself as something or someone you are not. This includes failing to mention something about your or your employer that is relevant.
Set an unreasonable expectation for a blogger and expect things in an unreasonable amount of time … ie – sending informaiton and expecting them to post within a few hours. Quick poll of our session showed that for the vast majority of bloggers, it's not their day job.
Get the journalism relationship right. Some bloggers consider themselves journalists and others don't. It was clear from the participants that this is a tricky subject, as some people also noted after the session.
I think we actually ended up with more than ten, but these were the main ones. I'm looking forward to hopefully hearing more thoughts from some of the participants as the SXSW haze settles and they get a chance to get back to their computers. It's a crazy show … lookout for a post here tomorrow on what I think has been the most interesting cultural and technological story of the show: the dominant use of Twitter.
Finally, special thanks to Aaron from Longstation and Steve Harbula (Director of Marketing for the Denver Broncoes) who were both kind enough to take live notes and post them almost right away after our session.
============================
Partial List of Participating Bloggers (from a list passed around – we missed many bloggers, so please add your name and thoughts in a comment if you were there and I'll update the post):
Also, thanks to Maura Welch, Sanjay Sabrani, Tracy Locke, Liz Link, Shannon McKarney, Gladys Kong, and many other participants who didn't add their names to the list for sharing their perspective as people who interact with bloggers and want to do it better. We may have focused on ways to piss off bloggers, but clearly there is some great interest and emerging guidelines on how to end up with happier bloggers. For reference, the guidelines from our 360 Digital Influence team that I mentioned to several of you at the session can be found here: https://blog.ogilvypr.com/?p=244