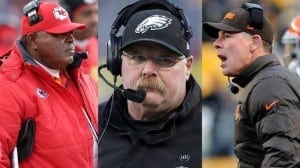 It is the day after the final day of the NFL football regular season and all morning the sports news is filled with announcements of coaches and general managers of teams who are getting fired one by one. It's hard to remember a time when a single day news cycle focuses so much on high profile people losing their job … and today has the added drama of being the last day of 2012.
Tomorrow will be 2013, and every coach (and player) who delivered their final contribution to their teams will start the process of searching for new teams or new roles outside of football. Ordinarily, seeing someone get fired the day before the new year would be cause for sadness. It's never nice to lose your job. But in football, there doesn't seem to be a lot of sadness.
Instead, everyone is looking forward to the new year. To new beginnings, and new teams, and new possibilities. Fans of disappointing teams can look forward to next year.  Getting fired in football has almost become a cause for celebration.
What if any of us treated leaving one job for another this way? What if anyone who lost their job in 2012 faced the new year with this type of optimism? Maybe the NFL today is reminding us that we all can.  No matter whether you did change jobs in 2012, or are looking for your new opportunity right now … remember the power of optimism.
The truth is, it doesn't really matter how your team did in 2012. In 2013 everything can start back at the beginning.