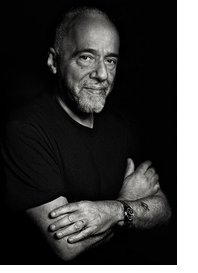 Sitting in a hotel room tonight putting the finishing touches on a presentation I am giving today on storytelling, I got an irresistable update to a new blog post over on Tim Ferriss' blog featuring a podcast interview with one of my longtime inspirations as a writer – Paolo Coelho.  His book The Alchemist is a life changing experience for anyone I know who has read it (including me). So when Tim published his interview, I immediately listened to the whole thing. I highly recommend it. 
In the midst of finishing my presentation and also putting the last edits together on my second book, the timing was perfect for the interview … which perhaps explains why I've spent the last hour procrastinating on finishing my presentation and writing this post instead. But if you aspire to write anything from a book to a great blog post, I guarantee that some of Coelho's tips below will help. Here are his frequently "tweetworthy" quotes that I wrote down from his audio podcast:
On Inspiration: "I procrastinate, check some emails … then I start. I write my books very quickly because I cannot stop."
On Confidence: "You cannot sell your next book by underrating your book that was just published. Be proud of what you have."
On Simplicity: "What counts in a good story is the person inside. Keep it simple."
On Trust: "Trust your reader. Don't try to describe things. Give a hint and they will fulfill this hint with their own imagination."
On Writing: "I write the book that wants to be written. Behind the first sentence is a thread that takes you to the last." 
On Expertise: "You cannot take something out of nothing. When you write a book, you use your experience."
On Critics: "Writers want to please their peers. They want to be recognized. Forget about this. Who cares? You should care to share your soul and not to please other writers who will write a review that nobody is going to read."
On Overcoming Stagnation: "If I don't feel inspired, I need to move forward. You need to have be disciplined."
On Research: "If you overload your book with a lot of research, you are going to be very boring to yourself and to your reader.  Books are not there to show how intelligent you are. Books are there to show your soul."
On Notetaking: "I use notes to take them out of my head. I will never use them the next day – they will be useless."
On Story Arcs: "There are only four types of stories: lovestory between 2 people, lovestory between 3 people, a struggle for power, and a journey."
On Style: "Don't try to innovate storytelling. Tell a good story and it is magical. I see people trying to work so much in style, finding different ways to tell the same thing. It is like fashion. Style is the dress, but the dress does not dictate what is inside the dress. What counts is the person."
On Notetaking: "If you want to capture ideas, you are lost. You are going to be detached from emotions and forget to live your life. You will be an observer and not a human being living his or her life. Forget notetaking. What is important remains, what is not important goes away."
On The Alchemist: "I wanted to write a story about my life. But I don't know why I chose a shepard. I've never been a shepard. When you write a book in one act, it is not such an effort to write it."
Thanks to Tim for offering up access to the mind of one of the most prolific and inspirational modern fiction writers – and to Paolo Coelho himself for taking the time to sit down and take all of us behind the scenes on how the magic really happens.