I stay in a lot of hotels. For personal trips, as well as business travel … there are hotels that I visit once or twice and there are hotels that I stay at often enough to recognize several members of the staff. Though I often choose Starwood properties because of location and frequent staying points, I use many different brands of hotels depending on the city and availability. Recently I have been considering starting a travel blog to capture all of these experiences at hotels, as well as my passion for some other elements of the experience such as luggage. I have written before and done a product trial for some Briggs & Riley luggage, and also own some Boyt and Tumi bags. I love to uncover new travel gadgets or tools to make the travel experience better or easier. When I found the card for the travel survey from DHL in my latest issue of BusinessWeek, I went and took the survey. I take a ton of photos of food at restaurants and love food photography. In short, I'm an engaged traveller … exactly the kind that many companies in the travel business would love to reach.

So when I got the chance to beta test a new site dedicated to a new way of rating and finding hotels called VibeAgent, I took them up on the offer. The site is still in beta so some things like the site search and autodiscovery of location during registration were still a bit clunky, but once inside the site it was clear the VibeAgent intends to take on one of the biggest problems with posting online reviews … that people are way more likely to post when they have a negative experience than a positive one because of a lack of incentive to share a good experience. The incentive to share a bad experience is obvious: revenge. I stay at good hotels that I like all the time, and hardly ever review them on a site like TripAdvisor or Yelp. I have accounts to both, but there is no real incentive to write and the process seems like a bit too much work.
For me, the number one incentive to keep track of where I stay is so that I can create an archive of my trips for myself. In part, this was the reason I started blogging … to keep track of great ideas I saw or had that might be lost otherwise. Luckily for me, many of those ideas were useful for others too. Recording this type of information has to be a personal experience. Where VibeAgent is most successful is in how they let you record your experience through quick buttons and collect your stays together: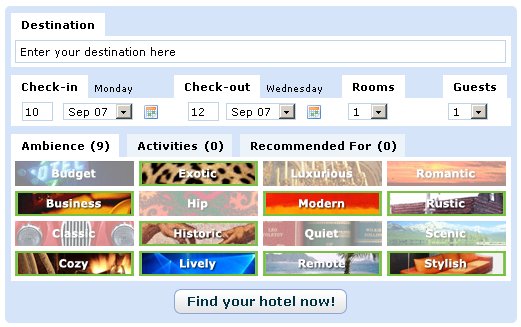 As I used the site, though, I couldn't help but wish for a more holistic way of recording my travel experiences. A real online trip diary, so to speak, where I could save all the details of my trip so I could refer back to it anytime. This would NOT be about sharing my travel stories … since I could already do that by creating my own travel blog or adding photos to a Flickr gallery.
Instead, the sole purpose of this online trip diary would be to easily record all my experiences, positive or negative, with set criteria. VibeAgent has a great start on set criteria for hotel stays. Yet, there are five key elements that make up the entire travel experience: transport, hotel, products, food and sights. If someone could create a similar tool for travellers to easily keep track of all these elements, that would be a tool worth paying for. Here is a quick list of features:
Integration with Google Maps
Database of hotels, sights and airports to quickly recognize what I want
Easy rating system for each element
Ability to link to photos for each, if I have them
Choose to share ratings or not share and keep private
Sort ratings together (ie – select hotels, airports and sights to see together)
Easily printable with easy to read formatting
Emailable custom pages bringing content elements together
Travel product reviews with links to online purchasing
If I could choose a site to start on my own, this would be it. I'd call it TripCellar (like a wine cellar – or something like that) and charge people to use it. To make it more Web2.0, I could easily drop the "a" and make it TripCellr.com. If it was really easy to use and offered a unique way to keep track of all your travel experiences, I think it would be a hit. What do you think? Would this work, or would it just be another tool struggling for an audience? Also, if you're interested in trying out VibeAgent, let me know … I have a few invites left to share.