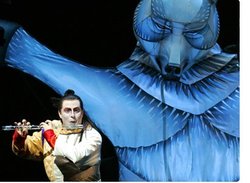 This weekend I headed to the movie theater to see A Night at the Museum, and before the film there was preview for the Metropolitan Opera's new initiative — Saturday Matinees Live in HD at local theaters around the world. I have to admit, what first caught my attention in the trailer was the multiple "Apple-esque" logo placements for Edelman in the first moments of the spot. As it turns out, this effort is part of the Met's new marketing strategy in 2007 to broaden the appeal of the Opera to a wider global audience (and presumably realize another stream of revenue from productions as well). Along with the 8 live HD broadcasts of performances in movie theaters, they are also broadcasting weekly audio programs through a partnership with Sirius Radio. The website provides details on all the programs, including some nice links to allow patrons to support the Met in other ways by contributing or spreading the word.
As some reviews have noted, this is a bit of a gamble for the Met as it may keep some travellers from making the trip to NY, and dilute the prestige currently associated with a night out at the Opera. The Washington Post has a great interview with Placido Domingo where he shares his view about the two types of people that don't go to opera – those that can't afford it, and those that don't like it. For the first group, the live performances can be a great equalizer (shows cost only $18 as opposed to the several hundred dollars a typical ticket to a performance at the Met can run). For the second, their dislike may be due to unfamiliarity with opera – which can also be addressed by the live performances. At the end of the day, I think what will make this effort most successful is the fact that a performance of the Opera can actually be enhanced by watching it in this way.
For example, anyone who has been to the opera will know the frustration of trying to watch the action on stage while also reading the subtitles above the stage. Depending on where you seat is, this can range from distracting to nearly impossible. On screen, it is much easier to follow a production with subtitles. Secondly, the color and visual appeal of the opera cater very well to the "big screen" and will make full use of the medium to present an engaging experience. Finally, the surround sound audio capabilities of cinemas make them ideal choices to introduce a great audience to the opera. This experiment will work wonders for the Met this year, bringing them more positive reviews, more audience, and furthering their reputation as a world-class production house for the opera. Broadway should take notice.