Add to: | blinklist | del.cio.us | digg | yahoo! | furl | rawsugar | shadows | netvouz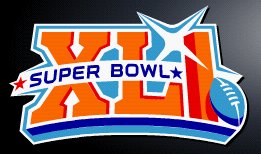 As the days count closer and closer to the Super Bowl this weekend, the hype about the ads is reaching the typical fever pitch that it always does each year as every news media outlet turns it's lens to who's running what, and getting consumers ready to share their reactions on the ads for their instant "rave-o-meters" and polls about the best ads. Lots of sites, including all the traditional news outlets, and (surprisingly) YouTube are just waiting for the ads and letting people vote on their favourites on the Monday after the game. That's been happening for several years now. Others are writing lots about the trend towards consumer generated ads at this Superbowl. That's definitely huge. But for any marketers who either work in, or follow advertising, the whole spectacle is fun to watch and knowing what is going to happen is necessary knowledge before we congregate with all our non-marketing industry friends to watch the big game and the big ads. To help you get ready, here's my first annual guide to everything you need to know about the marketing and advertising around the big game before it happens:
User-Generated SuperBowl Ads (that will air during the game):
Sneak Previews of SuperBowl Ads (that will air during the game):
Consumer Generated SuperBowl Ad Ideas (published online and some MIGHT air):
Other SuperBowl Ads and Ideas (published online, will not air):
You can also check out AdAge's Full List of SuperBowl Ad Buyers to get an idea of who you will see in the big game. There's lots of activity out there – and I may have missed lots of ads. If you know of some others that should be added to the list, let me know and I will add them.
Update (2/2/07): USAToday has published a full list of SuperBowl advertisers and a description of ads that will be run as well as the quarter of the game they will be run in.