Earlier this week I had the privilege of moderating at panel at the Ogilvy offices in Washington DC all about defining and exploring Government 2.0 (watch the livestream archive online). The panelists featured several visionary minds and leading thinkings in the world of Government 2.0, including:
- Alex Howard, O'Reilly Media
- Gwynne Kostin, U.S. General Services Administration
- Micah Sifry, Personal Democracy Forum
- Ari Melber, The Nation
- Mark Murray, NBC News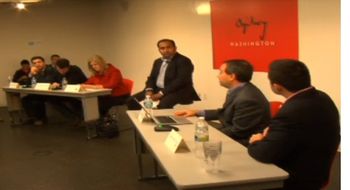 In our conversation, the topics ranged from defining the buzzword of "Gov2.0" to some leading case studies today of how social media and the web is being used by government agencies, to the potential risks and complications of all this evolution from a privacy or accessibility point of view. One of the biggest visions ifor what Government 2.0 could be has come from Tim O'Reilly who shared his ideas of "government as a platform" – but one of the most considered definitions of Government 2.0 I uncovered comes from a dedicated discussion thread on the popular social network GovLoop for those interested in the evolution of Government*:
"Government 2.0 is the socialization and commoditization of government processes, services and data."
Through our panel discussion, the big theme that came through for me was that the government workers, contractors and thought leaders who live and breathe in this world of Government 2.0 every day are often tackling very different categories of issues.
As I took notes from the conversation and spoke to some of the attendees afterwards, I started thinking in terms of the different emerging "branches" on this tree of Government 2.0 – and how they might be defined based on the examples that people spoke about as well as what I have seen in my work with clients in this area. This post is an attempt to share how I thought about that framework, and I'm interested to hear your thoughts (particularly if you work in the sector) on whether this works or feels too simplistic or incomplete. 
In putting this list together, I was tempted to note down entire categories for industries such as Healthcare or Education. Upon further thought, I think that each of these industries will have (and has already had) innovation in several of the areas I shared above, so I resisted creating entire categories for them. What do you think of this structure? Does it help to describe and explain the state of w
ork in Government 2.0 today, or just introduce another layer of buzzwords to an already confusing category? Let me know what you think or suggest another link that covers this question and I'll add it to the list below.
*Note: Thanks to Adriel Hampton for pointing out in a comment that this definition of Gov 2.0 originally came from a Gartner report by Andrea DiMaio.