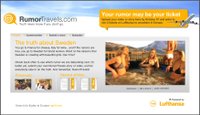 Typical marketing advice says that you should never focus on marketing your category, but instead focus on what makes your service distinct from your competitors. Marketing an industry or type of service is usually a losing proposition because even if you convince someone they need something, you have not convinced them that they need to get it from you.
In the travel industry, this lesson is somewhat different. Today American travellers are increasingly choosing destinations outside of Europe for their vacations because of the weak dollar against the Euro. Europe needs to find a way to get its appeal back and Lufthansa (an airline with many of the most frequented routes from the East coast to Europe) is helping the cause with a smart new campaign called Rumor Travels at www.rumortravels.com. The site offers a few videos focused on three of the greatest rumors about great European countries:
Sweden is full of hot blonde women – Watch Video
Germany has beer everywhere for every meal – Watch Video
France is full of lovers who cannot stop kissing each other – Watch Video

The videos are meant to visualize silly stereotypes and all end with the compelling tagline, "you'll never know if you don't go." There is a contest on the site where users can submit their own videos to win 2 business class tickets to Europe and a new Sony digital video camera. Strategically, the campaign works on on several levels:
Demonstrates the necessity of travelling in a world of increasing virtual experiences.
Positions Europe as the ideal destination to travel for challenging your preconceptions (something people may usually associate with other more "exotic" destinations)
Targets the young, professional and single travellers (who will likely be least deterred by the negative exchange rate between Dollars and Euros)
Of course, it doesn't hurt that each video features attractive people and focuses on the romance of travel. Europe, romance, professional, single … you get the picture. This campaign seems like it would work – if only Lufthansa was doing any perceptible amount of marketing around it. I read about the campaign on Adrants and most of the less than 20 blogs that are listed on Technorati as linking to the campaign come from people reading about it on Adrants. Even the Lufthansa US homepage only features a blurb on their promotion with Iron Chef instead of any links to the RumorTravels.com site. The video views on YouTube are still super low, and the contest ends in just 2 days.
As far as I can tell, it seems like a classic smart, strategic and engaging campaign that will ultimately underperform and fade into obscurity because the team behind it was unable to coordinate enough marketing support from whomever controls the ad budgets for Lufthansa. If anyone has insight into the campaign, please share. I would love to be wrong on this one …