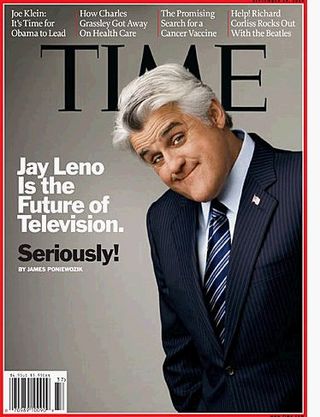 Tonight On September 14th at 10pm EST in the US, a new experiment in television will take place that is both a sign of the times, and a quiet revolution in the way that broadcast TV (and perhaps media itself) will work. The Jay Leno Show will debut at its new time slot of 10pm – a full hour and a half earlier than he used to be on when doing The Tonight Show – and aim to reach people "exhausted by kids, work and so on" as he has said more than once in interviews. The significance of this moment is not so much about the change in time – but in what types of programs he will be up against.
The 10pm time slot on the other big American television networks (ABC, FOX, CBS) are filled with expensive to produce dramas like CSI and Private Practice. Over the last five years, more and more of these types of programs have been moving to cable television channels like Bravo, FX, Lifetime, HBO and others. Cable offers broader creative control, more niche audiences and the creative license that producers of those programs often seek. Perhaps most importantly, DVRs and Tivo have been allowing a higher and higher percentage of Americans to skip the ads – reducing the effectiveness of television advertising and steering brand advertisers to consider spending money elsewhere.
Put all these pieces together, and you can start to see that the new Jay Leno show is very likely the new model of the broadcast television of the future (as the recent Time magazine cover piece explores). It will be broadcast live 46 weeks a year (as opposed to the usual scripted drama's 22 weeks) and will have a built in focus on current events that makes it much more unlikely that people will record it to watch later. In other words, if you want to see something current that is on RIGHT NOW, Leno will be there five days a week.
If it works, this experiment may demonstrate that the future of broadcast television may be all about live events such as the Leno program, some types of reality television, national and local news, and sporting events. Scripted dramas and comedies, on the other hand, may continue their move to cable television. Ultimately this may mean that live events become the only thing that can still truly attract mass audiences enough to keep the broadcast TV channels afloat. But here's the most interesting part: one of the best things about social media is that it is focused on real time collaboration and sharing. If the future of broadcast is pointing towards live moments, then the intersection between television and social media may be one of the most interesting stories of the future. I, for one, will be watching that collision closely.