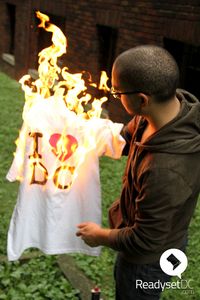 If you come to Washington DC as a tourist at any time of year, chances are you will spend at least a part of your trip visiting some of the most iconic museums and national buildings in the city. Outside of most of them are a collection of street vendors selling an assortment of life-sized cardboard cutouts of Obama and tacky shot glasses with the Presidential Seal on them.
One of their best selling icons is a t-shirt which is a simple copy of New York's well known logo – "I Love New York" – with the city name replaced. It is just one symbol of what I have seen spending most of my childhood growing up in DC area: that it can be a difficult city to adopt as your own. Many people live in neighboring Maryland or Virginia, the vibe of the city can shift based on who gains political power and there has always been a large expat population working 2-5 year stints at NGOs or embassies locally.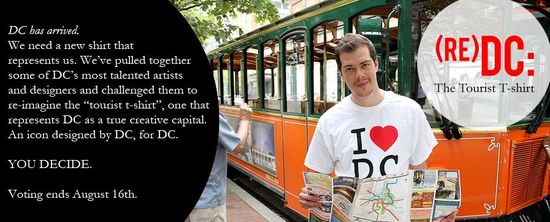 Back in August of this year, at the start of the Fall tourism season for Washington DC, two young D.C.-based artists Brandon Bloch and Justin Young thought the city needed a stronger identity, and felt that the solution to this challenge could be design based. So they invited their design friends to participate in a "curated competition" to create a logo that could better represent the city.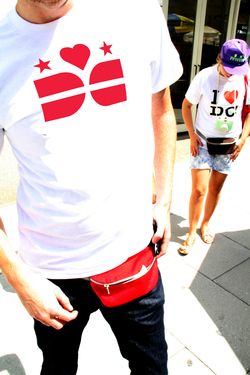 The competition resulted in several designs, and the winner was a designer named Alex Slater who had a simple but elegant design that felt uniquely right for DC. They have been sharing this logo at local events throughout the fall and have been featured in media both locally and nationally. While many of these "crowdsourced logo competitions" awaken the ire of designers for their focus on getting design thinking for free … the DC Love Project was different because it was a curated competition. All the designs were shown at a public event and the voting element offered a real time feedback method to help select one design to focus on promoting.
This campaign certainly helped to start defining a logo identity for the city that all of us locals would love to see … but the bigger idea to take away is that sometimes crowdsourcing misses the chance to really value every contribution you get – a curated competition might inspire much more passion among those who participate, as well as those who will see the final result.