Inspired by the Presidential Debate, the first story in this week's newsletter features an amazingly smart "Rock The Vote" campaign from Doritos that could have wide ranging consequences. Also this week I feature an amazing branded film about silk from Hermes, how you can test Firefox's most innovative new plans for creating the browser of the future, Google's plan to take on Amazon Prime (and the retailers who desperately need it to work), and finally an important story about Apple's choice to kill the headphone jack that raises an important issue most of us often forget about.
Want these insights before anyone else? Join my email list to receive a curated collection of the most under appreciated marketing stories of the week and useful insights like these every Thursday – a full 24 hours before they are published on this blog! 
How Doritos Might Save America (And The Election)
It is no secret that turnout among younger voters tends to be lower than it could be – so this fun campaign from Doritos is a welcome branded effort to illustrate to Millennials that choosing not to vote (or forgetting to register) is the same as having no choice at all. Which, of course, is just like getting a gray bag filled with flavorless triangles without crunch. It's a rare social message that is cute, smart, strategic, and seems like it might actually work.
Firefox's Not-So-Secret Plans To Reinvent The Web Browser
Many of us are familiar with Google Labs and how using it can enable new features in your email that Google is testing, but did you know Firefox has a similar feature?  Called "Test Pilot," the program allows anyone to test new features for the browser – and some of the options are incredibly smart. There is "Mini Vid," which allows you to play a video in the foreground while continuing to browse the web (perfect for the multitasker), or "Page Shot" which lets you easily take screen grabs within the browser. To try this feature for yourself, just install Mozilla's free Test Pilot plugin and enable "experiments."
Hermes Creates Branded Film About The Beauty Of Making Silk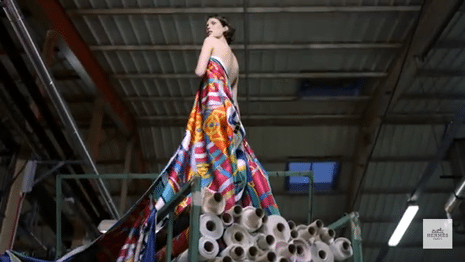 In this beautifully shot video you can follow the one minute journey of a model as she personifies silk by running through Hermès' actual silk factory in Lyon, France. The film, called "La Fabrique de la Soie" (or The Silk Mill in English) aims to take you inside the making of silk ahead of the product's 80th anniversary next year. Through the short film, you see some of the brand's iconic silk based designs coming to life. The film is mesmerizing, perfectly on brand, and likely to induce more than a few consumers to start lusting after Hermès silk scarves for themselves.
Google Launches New Competitor To Amazon Prime For East Coast
Though you might have heard the news about Google expanding its $95/year home delivery service called Google Express across most of the US East Coast, what's even more interesting are the retailers the brand has lined up as partners. Retailers on board so far include Costco, Kohl's, L'Occitane, PetSmart, Stop & Shop / Giant Food (depending on city) Sur La Table, Ulta Beauty, Payless, Adorama, Road Runner, Vitamin Shoppe, Whole Foods, TRU/BRU and Paragon. While the annual payment will be a hurdle for shoppers already locked into Amazon Prime, there are plenty of retailers who have a vested interest in Google being able to pull this off to help them more effectively compete against Amazon.
The Truth About How People Use Venmo
For anyone over 30, the popular mobile payment app Venmo is something of an enigma. Why would anyone share who they give money to and why in a social network? Yet the platform is the defacto method of payment for millennials in the US and processed $4 billion in person-to-person payments in the second quarter of 2016. This fascinating study from LendEDU looks like hundreds of thousands of posts to see what Venmo users say they are using the platform for. Food, rent, uber and drinks came out on top – and the study shared plenty more insights about popular terms, categories and quirks of Venmo users that make this worth a quick read.
The Hidden Cost Of Apple's Choice To Kill The Headphone Jack
While much of the tech press immediately fell into line praising Apple's "brave" move to remove the headphone jack from the newest iPhone, this one article presented a side of the decision that many of us forget to consider in business altogether – how the move might disproportionately affect those most unable to pay for luxuries like a $40 dongle. These "smartphone dependent" people often have no computer or Internet at home and rely on their smartphone as their only connection to the web. The article is well argued, raises an important point, and should be required reading for anyone working in technology or producing products that intentionally leave behind those people who are least able to afford it.
How Are These Stories Chosen?
Every week I review more than a hundred data sources to curate the best and most under appreciated marketing stories of the week. The aim of this email is to spotlight these "non-obvious" stories, along with a quick take on why they matter for you. I hope you find this email interesting and useful … and am always open to your suggestions on how I might make it better!