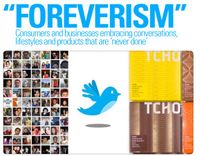 One sunny afternoon just over ten years ago, I was backpacking through Ireland and met a fellow traveller on the steps of one of the bridges that cross the River Liffey. We had both just graduated from college a few weeks earlier and spoke for hours about life after college. Then we exchanged addresses and parted ways – never likely to meet or speak again.
Thanks to social networking, lost friendships like this may be a thing of the past. When you connect with someone today, you may very well be connected with them for life (unless you choose not to be, of course). The same goes for content that you post online, and even your relationship with a brand or product that you buy. This is not about short term or long term. This is about forever. Several weeks ago I wrote a post about the Forever stamp and what the US Postal Service can teach us about marketing longevity.
This month, forever is vastly expanded and explored as the topic of a great trend report from one of my favorite sources of information online – Trendwatching.com. In this month's report, their consistently smart research team identifies the trend of "foreverism" and defines it as "the many ways that consumers and businesses are embracing conversations, relationships, and products that are never done."
Here are just a few of the ideas I took from the report:
Forever Findable. Referring to the concept of always being able to connect with someone or something online, I found this to be an interesting way of summing up the fact that with the Internet, there is no knowledge that is out of reach. This findability has broad implications for our future relationships, learning, and even history itself.
Twitter As The Last Straw. Despite having the technology for many years now, it is only with the rise of Twitter that big brands have begun to really jump into using these tools as a core part of their marketing activity. With the recent announcement from Twitter that they will start to verify accounts, this may lead to even more brands using the tool to connect more directly and consistently with customers.
Campaign Forever. Many businesses promote their wares through a series of campaigns. One starts just as another finishes. There are some, however, which may have enough power and popularity to remain for as long as you can afford to keep them. Crackerjacks has had a free prize inside for nearly 100 years. The point the Trendwatching report makes is that in your business it pays to start thinking less in terms of just campaigns and more about which short term messages your customers may want to see for much longer.
Visit www.trendwatching.com/trends/foreverism/ and download the full report, which will be free through the end of June, 2009.