What if all the people who were truly passionate about your brand had a single place to gather? Somewhere that they could share content and opinions, organize real life events, ask one another questions, and just about any other activity that happens in a real community. It's pretty obvious to see the value in something like that – which is probably why many companies have tried some version of it. Yahoo launched and then abandoned their Brand Universe concept. Sites like Squidoo, Ning and Alltop arguably had some version of this vision in mind when they launched as well.
Today, word of mouth marketing company BzzAgent is launching their effort, called BzzScapes. I had a chance to take a preview demo of it recently, and the thinking behind the site is that if you can give members of the BzzAgent community (who number over half a million and are already self-described "brand enthusiasts") a place to share content about their favourite brands, they will create a valuable community for any brand marketer (and advertiser) to be part of.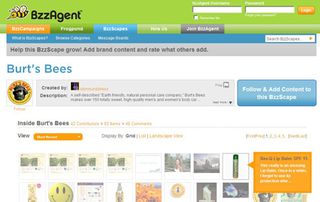 The real problem of creating communities like this, though, is taking a role as the primary destination that other brand content can fit under. Can any one brand community become the place to gather photos on Flickr, YouTube videos, passionate bloggers, individual tweets and just about any other form of content about a particular brand? In cases of extreme passion, sites like Moleskinerie … but for most brands, this may be too much to hope for. So instead, someone needs to encourage customers to create these communities and make it easy. BzzAgent wants to be that someone.
In theory, the site is meant to sit at the intersection of what everyone wants:
Brands want to find people who are passionate about their products/services and help them spread the word.

People want to be recognized and supported (either through sample products or insider knowledge) by the brands they love.

BzzAgent wants to be the one to bring these two together in a measurable way (and charge for it).
If you are like most brand marketers, you might be skeptical about the potential for this because many people have tried it before, and failed. The difference, in my mind, is that this time around it's being launched by a company whose entire mission is to give people real experiences with actual products and services. In most communities that talk about brands, the way for a brand's marketing team to participate is not usually clear – and the benefit participants get (apart from conversations) isn't clear either. BzzAgent can add this clarity on both sides … and help everyone get something out of it. If anything helps this effort to take off where others have failed, that will be it.
NOTE: This is reposted from the original version on the Ogilvy 360 Digital Influence blog.