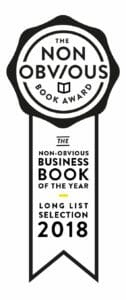 Every year my team and I read and review hundreds of books in the process of curating ideas to incorporate in our annual list of trends. Beyond using those books to inspire how we see the world, we also select our favorites each year to feature as part of the Non-Obvious Book Awards program. For this year's report, we debated and reviews more than 300 titles that were published during the 2018 calendar year in order to come up with our long list of 50 titles featured below. This post is now updated with our top 15 favorite books for our Shortlist, along with awarding our top selection in each of the following categories:
To see previous year's award winners, read more reviews or learn more about the awards, visit the Official Non-Obvious Book Awards Page >>
2018 Non-Obvious Book Awards Shortlist Winners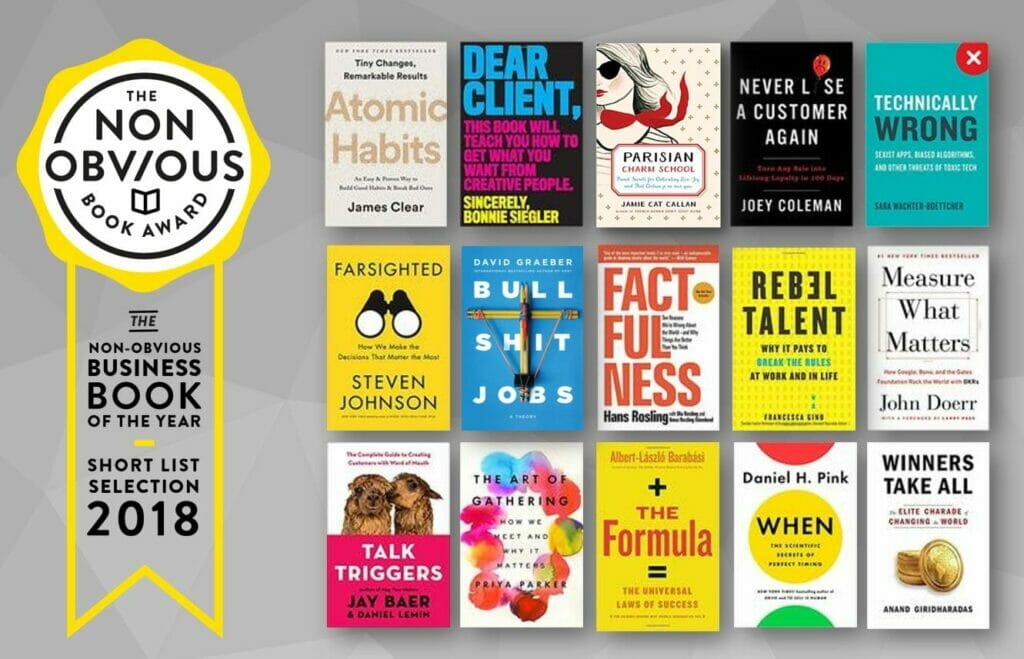 Here are our top 15 selections for the Non-Obvious Book Awards (scroll down to read the full review of each book):
2018 Non-Obvious Book Awards Longlist Winners
And here is the additional Longlist for the rest of our picks for the best 50 business books of the year!
Honorable Mention – Ideapress Titles: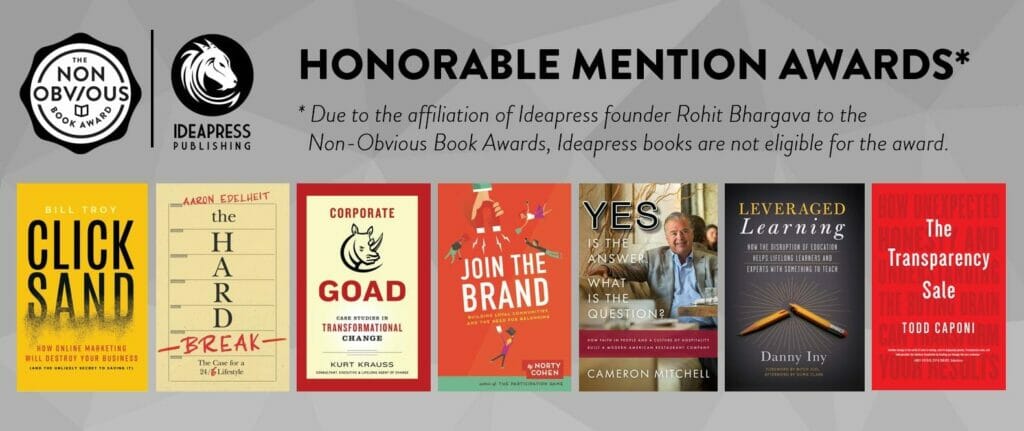 In addition to selecting these titles for the longlist, there are a highly selective small handful of books that I was proud to help publish over the past year through my publishing company Ideapress. In the interests of transparency and to remain unbiased, Ideapress books are not eligible to be selected as part of the Non-Obvious Book Awards, however they do represent the "best of the best" authors and ideas that myself and my team were privileged to be a part of launching and highly recommend. Here is a list of Ideapress titles that were published this year:
*All books are presented in alphabetical order and must have a publication date in 2018 in order to be eligible. Many of the titles reviewed for selection were provided to our team as advance reader copies or complimentary review copies. Other titles were selected and purchased at full retail price by our team from bookstores. No compensation was accepted to review any books and no entry fee was charged to any author or publisher in exchange for reviewing their book. 
---
Non-Obvious Book Review: Bullshit Jobs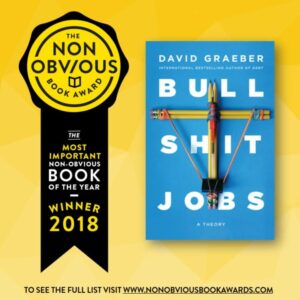 The future of work is a hot topic these days, as it should be. The rise of automation and changing nature of the work people do (or need to do) has plenty of people panicking about what our society might look like in a future where there isn't enough work for everyone. Do we need social changes like universal basic income? Will we need governments to become large scale employers of people? Is entrepreneurship and the gig economy going to be the answer? All of these could be viable solutions, but this book looks at a related but relatively ignored reality of this economic upheaval: the quality of the work people are actually doing. More specifically, it highlights the sad fact that many jobs are based entirely on bullshit. A bullshit job lacks a sense of purpose and is one that doesn't make a meaningful contribution to the world … and there are plenty of them. This is a book that might make you angry, sad, or just plain curious about how some of these jobs manage to exist at all. No matter what your reaction, it's an essential read – and our pick as the winner of the 2018 Non-Obvious Book Award: Most Important Business Book of the Year.
Non-Obvious Book Review: Rebel Talent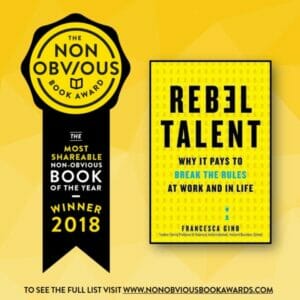 Could something as simple as a pair of red sneakers help boost your confidence and help you be perceived as having greater authority? This is just one of many fascinating questions Gino raises and answers (spoiler alert: it can!) in this book all about how to use non-conforming "rebel" behavior to achieve greater things. Despite her perspective as a tenured Professor from Harvard, her tone throughout the book is friendly, down-to-earth and filled with approachable stories of her own first-hand research testing the methods she shares. In one of these stories, she explores why non-experts may be better problem solvers than experts. In another she takes you inside the animation studios of Pixar as she interviews Ed Catmull to learn how he keeps one of the world's most creative workplaces continually engaged. For the stories, insights and the easy style with which she shares this, Rebel Talent is our pick for the 2018 Non-Obvious Book Award: Most Shareable Business Book of the Year.
Non-Obvious Book Review: The Formula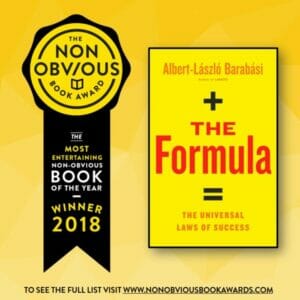 What if the real secret of Einstein's celebrity was the result of him being in the right place at the right time? Why do individuals often receive the credit for a group's achievements? Why do famous artists remain famous no matter what they end up doing next? These fascinating questions are all explored in this latest book from network science professor Albert-László Barabási. In The Formula, Barabási suggests five laws that explain why accomplishment isn't the same as success and why so often the unlikeliest person (or product) seems to be the one that succeeds the most. For exploring the role that randomness plays in success and trying to offer a new path to understand what it really takes to win, The Formula is our choice for the 2018 Non-Obvious Book Award: Most Entertaining Business Book of the Year.
Non-Obvious Book Review: Factfulness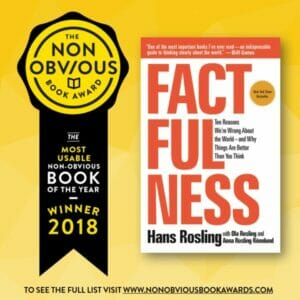 The best books don't just help you see the world differently, they also help you learn how to think. This is one of those books. From the opening "test" where you are invited to answer 13 multiple choice questions about the world that you will likely get embarassingly wrong, this book will confront what you think you know about the world. Through an inventive discussion of ten "instincts" that most of us have without realizing it, the late Hans Rosling and his co-authoring team of his son and daughter-in-law share a much needed perspective about what is actually right in the world and why the future may be more hopeful than you think. How does our fear instinct keep us from understanding facts and instead force us to gravitate toward the sensational? Can you look beyond individual stories to the wider statistics to understand a problem on a bigger level? How can we avoid the blame instinct that forces us to seek a clear and simple reason why something bad has happened when there may not be one? These are the sorts of big questions you will find in this book, along with some much needed answers. It is this focus on answers and real techniques to help us think differently that led us to select Factfulness as the winner of the 2018 Non-Obvious Book Award: Most Useful Business Book of the Year.
Non-Obvious Book Review: Winners Take All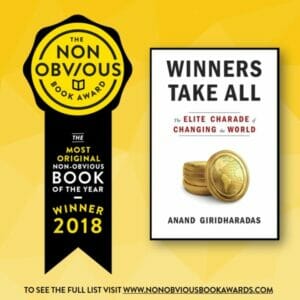 In this timely and well argued book, the Giridharadas makes the unusual suggestion that the motivation for wealthy people and institutions to give to charity may be a deep desire to maintain the status quo. Much of the charitable giving and big programs intended to help the lower classes might be unnecessary, he writes, if those people were simply better paid by corporations and taken care of by governments in the first place. Inspired by his conflicted experience at the renowned Aspen Institute, he rejects the idea that the ideal way to improve the world is to encourage the privileged to create "side hustles" and instead suggests that a better solution would be "asking [elites] to make their firms less monopolistic, greedy, or harmful to children." The entire argument of this book and the perspective that Giridharadas offers is one that few are talking about. For that reason, Winners Take All is our pick for the 2018 Non-Obvious Book Award: Most Original Business Book of the Year.
Non-Obvious Book Review: Atomic Habits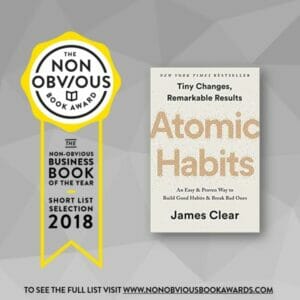 The first time I met James Clear, I had just finished listening to him speak and he was generously sharing loads of online resources with his audience to answer just about every question they were asking. He immediately struck me as a collector of ideas and the idea that had stood out most from his talk was how he optimized his time. In Atomic Habits, he has compiled the most valuable advice he has routinely shared online into this easy to read book. It is no surprise millions of people consume his ideas every month through his popular website as he showcases the habits and rituals of everyone from athletes to entrepreneurs. If you are looking for a highly actionable guide to improving your every day habits, being more productive and living better – this book will offer a valuable guide for doing it all.
Non-Obvious Book Review: Farsighted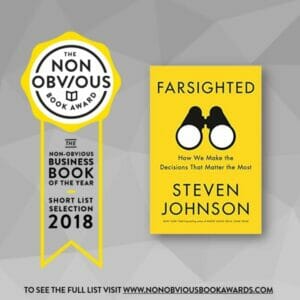 There is a lot of advice for how to make decisions in the moment, but what does it really take to make decisions that will have long lasting implications? In this fascinating book, author Steven Johnson uses the opening example of geological and urban planning as an example of how the decisions we make in the moment can shape the world to come. It is an important book to read in today's world, where it sometimes seems that we are generally thinking in more short term ways than ever … particularly when you consider our politicians. Reading this book, I couldn't help wishing we could force more world leaders to read it. That's probably too much to hope for. But in his closing argument, Johnson does make a compelling case for why we should teach decision making (and long-term "farsighted" decision making in particular) as a standard course in our high schools and colleges. Whether that happens or not, the book offers a valuable reminder that we ALL could use a little more farsighted thinking in our daily lives as well.
Non-Obvious Book Review: Dear Client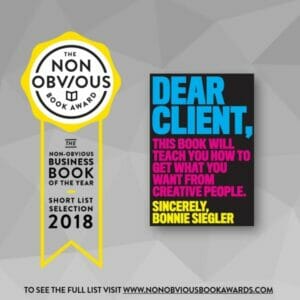 For anyone who has ever worked in a creative or client services role, this is the book you wish your client would have read. I know I have wished for a book like this in the past and though I left my marketing agency days behind me when I became an entrepreneur a few years ago, every idea in this book resonated deeply with me. Though the stories and examples can be quite New York centric, the lessons and suggestions for how to be a great client are useful for anyone who has to manage a creative team, inspire outside partners to deliver their best work and give feedback with clarity and kindness to eventually get the creative result you really want.
Non-Obvious Book Review: Never Lose A Customer Again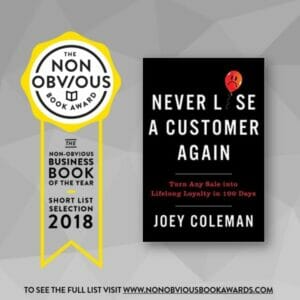 I have known Joey Coleman for years, and during most of that time I knew he would eventually write this book and that it would change how many people think about doing business – including me. I was lucky because I have been able to use some of his ideas to transform the first ninety days of when someone works with any of my companies already, but this book makes those techniques that only a few of us were benefiting from widely available. And knowing Joey, that's what he always wants to do … offer his ideas and insights generously to others. So this book will teach you what it really takes to drive loyalty, how to delight your customers in a way that they care about, what the biggest mistakes most companies make are and why the first ninety days of any engagement matter so much. After reading this book, the one thing you'll end up wishing for most is that your competitors don't discover it too.
Non-Obvious Book Review: Technically Wrong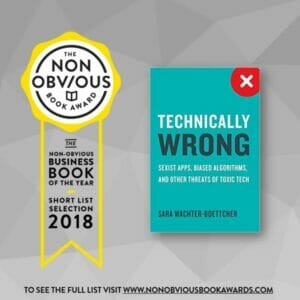 One of the opening stories in this book is about a peditrician in England who joined a gym but was unable to enter the women's locker room. The reason? The software system used by the gym was assigning access to locker rooms based on a member's title – and the title "doctor" had been coded into the system as male. There are more examples of this sort of bias baked into technology than most of us realize, and this insightful book from web consultant Sara Wachter-Boettcher helps to uncover many of them. The most powerful chapter in this book, titled "Delighted To Death" features disturbing stories or invasive technology that tries (and fails) to create delight and instead creates the opposite. Facebook's Year In Review feature forcing a father to relive the worst year of his life when his six-year-old daughter lost her fight with cancer. Automatic birthday celebrations that happen while people are going through (and posting about) traumatic experiences. The list is long and sad. More than anything else, this book is a reminder that when we are designing any experiences – there are blind spots based on the situations we imagine or the background we have … and discussing them openly is the only real way to make technology "fairer, kinder and more humane" as the author writes.
Non-Obvious Book Review: Talk Triggers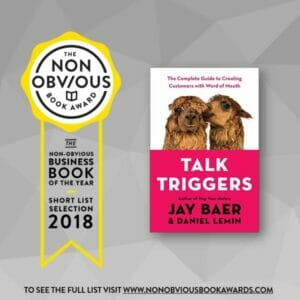 If you have ever seen Jay Baer dress, you know he's a master of getting people talking. What he creates with his signature collection of checked blazers is a way to stand out. A little over ten years ago I wrote a book about using your personality to stand out. It featured lots of stories of companies who had found some way to get people talking and to exhibit a more human personality that offered a reason to inspire belief. At the time, the idea of word of mouth marketing was just emerging to be a powerhouse. Today, most business owners already know that word of mouth marketing is critical. What most don't know is how to give it a jump start. That's what this book will teach you. In Talk Triggers, Jay and Daniel offer a wealth of practical ideas and methods for how to get your business to stand apart. Whether you are doing this for the first time, or trying to reinvigorate your company and come up with a new talk trigger to replace a stale one, this book will help you do it. There is a framework with four elements for building talk triggers, but what makes this book most useful is the stories. Like listening to Jay speak from the stage, this book will get your mind racing and inspire you to do more to be worthy of talking about.
Non-Obvious Book Review: The Art of Gathering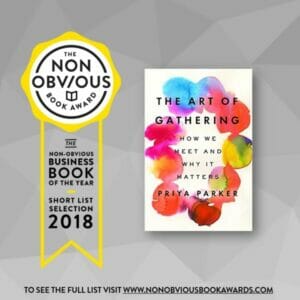 I spend a lot of timing at gatherings I am not in charge of running … usually as an invited speaker. When you travel for more than 50 events a year, you can't comparing them and wishing they were all great. If there was one book I would recommend every event planner read, it would be this one. As a trained conflict resolution consultant, author Priya Parker has plenty of experience helping people create more inspired gatherings and it comes through clearly in this highly actionable book. Her advice ranges from the simple (never start a gathering by telling people where the bathroom is) to the surprising (why darker event themes work better than happy ones). After reading this book, I plan to bring some of Parker's insights to the events I'm invited to, and use some of her more personal suggestions to transform how we host a dinner party at home too. In a world where technology sometimes feels like it is replacing human connections, meeting face to face is rarer and more important than ever. The Art of Gathering is the essential guide book to make each of those gatherings as memorable and impactful as they could be.
Non-Obvious Book Review: When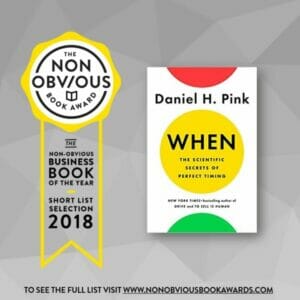 Dan Pink has a talent of tackling the big questions and perhaps none is quite so big as WHEN to do anything. I was lucky to read this book before it was officially published and to see Dan talk about it on stage very early. What struck me most at that point was just how often even truly analytical people seem to mistakenly believe that timing is an art instead of a science. This book argues the opposite. Like his other books, this one takes you deftly between questions that will help your career (make a fast start in a new job) and those that will help your life (how to take a perfect nap). It's hard to suggest that a book could uniformly be useful for every kind of reader, but if there was one you might describe that way … this would be it.
Non-Obvious Book Review: Measure What Matters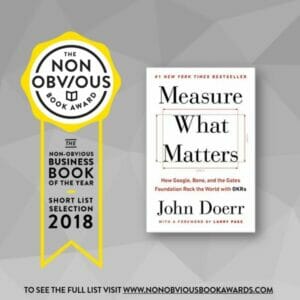 Some of the best ideas you'll read come across initially as perfectly obvious. This book might feel the same way. When author John Doerr first explains his "OKR" measurement method and offers examples, it will seem perfectly straightforward. Why wouldn't everyone use this process initially pioneered during his time working at Intel in the late 1970s? The problem, of course, is that we get distracted and far removed from the simplicity of focusing just on what matters. We routinely focus on what doesn't. And so that is the macro lesson in this book. Keep your focus on what matters. Measure it routinely. And then you will get to your ultimate goal. It's easy to understand why so many leading organizations are turning to this method of thinking and why you might want to consider it in the new year as well.
Non-Obvious Book Review: Parisian Charm School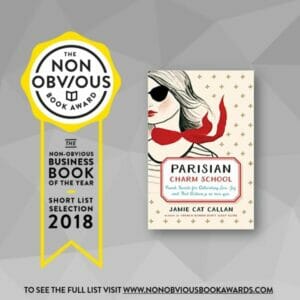 I am not supposed to read this book … a fact I was reminded of more than a few times as I moved from one chapter to the next in Parisian Charm School. Learning the French art of flirting or why the "hush-hush" quality of the French voice are topics clearly written for single women. I am neither single, nor a woman. But what I found most fascinating in this book was the insightful way the author points to the power of what most of us might usually consider to be insignificant. Carrying flowers down the street. The scent of perfume on a coat. Learning unusual knowledge to share in an unexpected moment. More than anything else, this book is about how to have a magnetic personality that makes you unforgettable. We could all use a little more advice on how to do that.