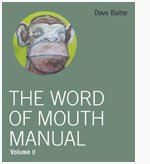 If I told you that you could buy a new book on Word of Mouth Marketing starting tomorrow on Amazon for $45 and that it was a quarter the size of a regular book and in paperback, what would you tell me? Now what if instead, I told you the entire book was available as a free PDF download from one of 20 selected blogs (including this one) starting today for you to read first. This PDF is part of a new social experiment that Dave Balter and the rest of BzzAgent are launching around Dave's new book: The Word Of Mouth Manual – Volume II.

Download your own exclusive copy of The Word of Mouth Manual >>
The book is only being made in an exclusive run of several thousand copies, and being released simultaneously on 20 top blogs around the Internet. The idea is to whet your appetite for the book and encourage you to buy a print version. The book itself will be part of a series of limited editions that come with a "water-proof cover" and a hand designed bookmark from BzzAgent's Artist-in-Residence, Seth B. Minkin.
What Dave and the entire BzzAgent crew know about word of mouth is that it is an unstoppable force that is based on giving people something to talk about. Nothing does that faster than offering something exclusive and limited. That's the real secret to WOM. So check out your free copy of Dave's new book by downloading it online here, and then spread the word about it.

See a full list of blogs participating >>
Download Your FREE Copy Of The Book >>