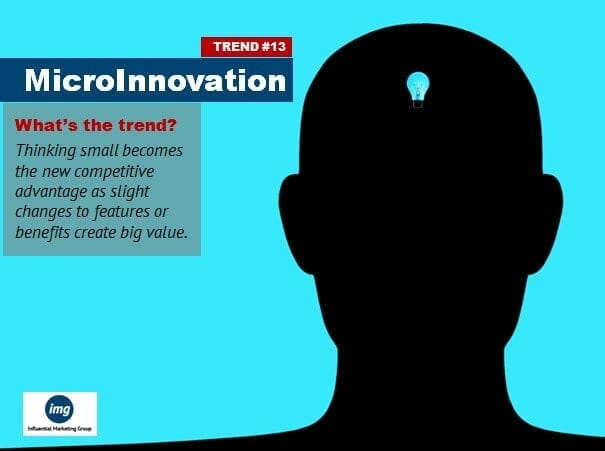 What's the Trend?
Thinking small becomes the new competitive advantage as slight changes to features or benefits create big value.
We generally live in a world that celebrates the big idea and always encourages everyone to have more of them. Yet many business gurus who focus on innovation within companies all agree that often it is the small ideas that create the biggest impact. The ideas that are achievable instead of outlandish – and which often generate more immediate benefit versus long term strategizing. In 2013, the currency of these types of ideas will continue to rise, causing businesses of all sizes to think small – and win by doing it.
Who should care?
This is a macro trend that should affect every industry in business. In particular, organizations that suffer from the danger of becoming commodity businesses should look to this trend as a possible solution for standing out without the necessity of uncovering the "next big thing."
This trend was featured in my full "15 Marketing Trends In 2013 That Will Change Your Business" report. To see the full report for free online and learn about the ebook action guide for tips on using this trend in your own marketing strategy, visit www.rohitbhargava.com/15trends.