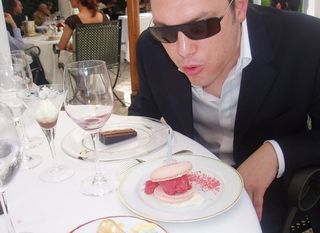 Adrian Moore is the best concierge in the world. At least, according to British travel magazine Monacle, he is. He works at the Four Seasons in Paris, knows all the best spots and restaurants, is intimately aware of any festivals or special events in his city and is, by any account, an authority on all things about Paris. As a business traveller, I appreciate a concierge like this. Unfortunately, the majority of hotels never have anyone like Adrian. Instead, they staff their "concierge" desk with someone who was checking people in at the front desk just the week before.
In those empty cases, the so-called concierge is no better than an Internet enabled computer with access to city resources, a few travel blogs and Yelp (or another restaurant review site). The most interesting thing about Adrian Moore that I didn't mention, however, is that he also happens to be a blogger. And his blog allows him to explore his city and publish his thoughts about it. Which leads me to an interesting question – what if all concierges were bloggers?

Or, put another way to broaden this question beyond the hotel industry, what if the person who was most directly responsible for interacting with your customers used social media more often? This idea works out well for the Four Seasons in Paris with Adrian, but also has worked well for Comcast with Frank Eliason using Twitter as his tool of choice to actively and proactively help customers. Social media can help amplify the voice of any individual to help them bring a personality to a business. The concierge is a term recognized for hotels, but it is a role that many businesses could use in some way. If you had to point to someone within your organization who could be your "concierge" – who would it be?
Once you answer this, you can also answer one the biggest questions that many companies ask before starting to actively use social media — who is the person (or people) within our organization that should start blogging, tweeting, conversing and responding on our behalf online?

It's the concierge, and if you don't have one … go find one.