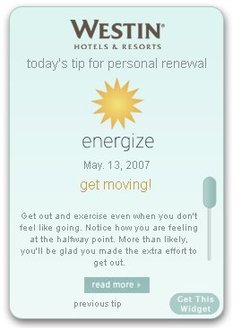 Starwood is continuing their emerging focus on creating iconic lifestyle brands out of the multiple hotel chains they own with a new website called "Find Renewal" that will officially launch and be announced this Tuesday. Marc Schiller, CEO of Electric Artists and fellow blogger pointed me to the new site, one of several efforts for Starwood that his team has helped launch. Also on that list have been the recently reopened virtual hotel concept Aloft that was launched in Second LIfe and generated great publicity for Starwood (as well as valuable consumer insights that were used to recently relaunch the hotel in Second Life, as well as fuel the creation of hotel in real life). Starwood also created a buzz last year with their engaging and perfectly targeted Starwood blog, The Lobby focused on Starwood members and travel enthusiasts. As a Starwood Platinum member myself, I find the content on the blog to be interesting, timely, and perhaps most imporantly from a marketing sense … used well as a marketing tool to drive interest in Starwood properties worldwide.
I have written about Starwood's efforts before, and needless to say – I am a big fan of all that they have been doing with social media and online. When it comes to the Westin brand, Starwood has typically stayed with a higher class message – choosing to focus on the luxury of the chain and comfort of the beds and room. Having had the pleasure (once) of being upgraded in the Westin New York to a top floor room with massage chair in room … I can certainly attest to this focus being important for the business traveller. With the new Find Renewal site, Westin gathers a group of six experts in fields from fitness to psychology to participate in their "Renewal Council." Using spokespersons in this way has been done often as part of PR campaigns, and the site offers content in the way of "tips" written by the panel of experts.
Unfortunately, many of the tips shared so far fit into the category of fairly obvious cliches – such as "small things make a big impact," or "Get out and exercise even when you don't feel like going … More than likely, you'll be glad you made the extra effort to get out." Not exactly advice you'd pay an expert for. As blog posts, which is how the site is set up, it's certainly not as compelling as The Lobby. Saving the site, however, is the smart use of a widget to allow people to grab these posts as quotes and bring them into a revolving daily tips feed on their site or desktop. Used in this way, the content becomes far more compelling in a "daily horoscope" kind of way and offers a method for getting a quick reminder through a tip that I could see people finding useful. In the end, I think the site does well to brand it's unique experience and further the brand perception of Westin as a great hotel chain to unwind. You'll have to decide for yourself if the advice they offer is useful or not.