Marketers love big events. Whether it's a big game like the Super Bowl, or a holiday specifically fabricated for marketing reasons, like Valentine's Day, these themes offer a marketing opportunity hard to resist. Usually, this means that most events are very crowded when it comes to marketing messages. As a result, it's tough to stand out. When you are having a sale on the same day as everyone else, you are forced to compete on the same terms as them. There is a technique that I have seen being used a few times over the past few weeks that offers an interesting alternative by focusing on being "peripheral" to the big event that every other marketer is focused on.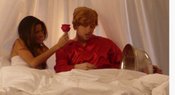 My colleagues at Ogilvy just launched a campaign that fits this category for a new Honey Bunches of Oats cereal with chocolate pieces. It features a fake band called "Dawn's Early Knights" singing a boy-band pop song called "I Made You Breakfast In Bed." Here's the video:
Instead of focusing on Valentine's Day itself, the campaign is all about the morning after Valentines, on February 15th. It is extended online by a Facebook group, a Flickr gallery and a campaign website. This is also a technique that got several brands significant buzz around the Super Bowl without forcing them to pay the hefty price tag to run a spot during the game. My favourite example is the "Miller High Life Delivery Guy Rant" which already has more than 50,000 views and has been getting great buzz for how the beer brand positioned itself outside the game and yet still made an impact:
Reebok's effort with it's "Perfectville" spot, filmed with two potential endings, has also generated great buzz outside of the Superbowl:
So, in 2008 with the arrival of social media and lots of other ways to reach consumers, is peripheral marketing going to be here to stay? From what we've seen so far, it will be a technique to watch and one that smarter marketers continue to use to stand out.
PS – In case you were wondering, here's the alternate ending for the Reebok spot that would have run if the Patriots had won the Super Bowl.