Photo Credit: saikofish (Lou)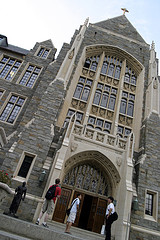 Do you remember ever sitting in a class and thinking to yourself that if you were teaching, you'd do it completely differently? Most of us can probably relate to some version of this experience, though we usually don't get the chance to do it our own way. Starting this week, I'm getting this chance by leading a Masters level summer course at Georgetown University in the Center for Social Impact on Global Communications.
The format of the class is loosely based on the format for the TV show, The Apprentice (though thankfully, no one gets fired!). So each week we'll have a real client project with two teams competing to create the best strategy. The winner is decided by the client. To add a wrinkle, we're not just doing US-based projects either. Next week the class will get a project for a client in Russia, and after that they will tackle client projects in Sweden, South Africa, China, India, and Brazil – before the entire class heads to London for the last week of the class in early August.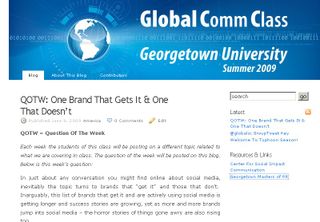 Along the way, I've chosen to include a few real world elements in the course such as making most of the reading assignments based on the web and real time sources, requiring each student to do a blog post on the topic of the week (and choosing the best post each week), running each week like a typical RFP (Request For Proposal) response situation and creating a grading system that incorporates the way that presentations and efforts of this sort are typically judged in the real world.
It's going to be an interesting experiment over the next few weeks as the class unfolds. In case you're interested, you can check out the class blog at https://globalcc.wordpress.com to see what the group of students comes up with each week, and add your comments and thoughts. As I say in my first post, the blog will be very much like a typhoon – lots of activity for a short amount of time, followed by relative calm. Also, the class is using a service called GroupTweet to all contribute tweets to the group account @globalcc – so you can follow us to see our updates as a class throughout the summer and from London as well.