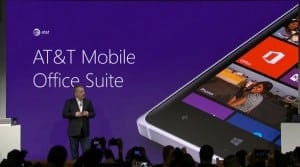 Last week at the Mobile World Congress in Barcelona, AT&T announced a new partnership with Microsoft to produce a suite of mobile Office products and wireless plans geared for small and medium-sized businesses. It is an understandably hot (and profitable) market for any technology services provider – with one recent survey noting that "new technology" was the number one investment priority for small business owners heading into 2015.
So when you have a hot area and a business necessity to offer solutions and generate real customers, what do you do?  Develop a gratuitously useless list of strategic pillars and priorities, of course.
The latest one to attract my interest (not in a good way) comes from AT&T itself, and a hard to watch interview with Steve McGaw (CMO of AT&T Business Solutions) posted on AdAge magazine. In the interview, he struggles to fit AT&T's new suite of tools for small businesses into the four strategic pillars that supposedly describe everything AT&T offers for businesses.
To recap, here are the four strategic pillars AT&T use and McGaw describes in all their meaningless glory:
Connect
Protect
Virtualize
Manage
To add just a bit more confusion to the mix, unfortunately the new Mobile Office Suite doesn't actually fit into one of these categories but rather "kind of transcends connect and virtualize" according to McGaw. Realizing that this may not be descriptive enough, he goes on in the interview to describe it in these terms: "think of it as a combination of communications and computing all wrapped in a great collaboration experience."  Now, to be fair to McGaw (who I don't know personally), he is probably just working with what he is given.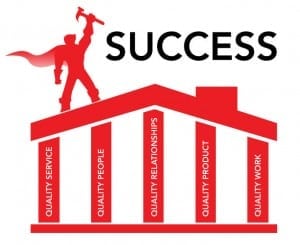 After all, the four pillar approach to business strategy is one that we see far too often.
A management team gets together and picks four words that seem relevant and powerful enough to describe what they stand for.  Those words are used as bullets in some sort of a tree placed onto a Powerpoint slide to describe "everything we do" as a way to simplify a strategy and make it understandable. And then people are divided into these pillars in terms of what they are responsible for and told to start promoting, selling and reporting results on a monthly basis. Sadly, there are three fundamental problems with this approach.
Strategic Pillar Problem #1 – Complexity
In the process of trying to simplify a strategy into a few big buckets, the ironic side effect may be the exact opposite: that this rampant oversimplification actually leads to lots of confusion and conflicting messages about what the priorities are. Which pillars are more important than others?  What if efforts overlap multiple pillars?  What about regions or situations where only some of the pillars are relevant?  The issue with simplifying these pillars to an extreme point is that the categories seem like little more than buzzwords – without enough direction to truly guide anyone's efforts.
Strategic Pillar Problem #2 – Competition
When you put work into these strategic pillars, often the resources follows the same organization.  The problem that this type of division of labor predictably leads to is what Fred Kofman (author of Conscious Business) describes as a situation where "people get focused on optimizing their subsystem while destroying their system."  In other words, they begin competing for limited resources to make their pillar the strongest, and the overall company suffers as a result.
Strategic Pillar Problem #3 – Misalignment
Perhaps the biggest problem with many declarations of strategic pillars is that they are often aligned around qualities or things that customers don't see as important or described in terms they understand or care about.  Small business owners don't wake up in the morning thinking how to "virtualize" their business. No one knows what that means.  Instead, great strategy needs to focus on those things customers care about and are likely to act upon.
Strategic Pillars vs. Strategic Vision
Now I realize that you might read the above analysis and point out that I simply selected a single example where strategic pillars are clearly flawed in order to pick it apart.  What about the thousands of companies who use them to successfully divide their business into categories and divisions with different products for different audiences?  Segmenting a business into product lines or industries clearly makes sense.  There is an obvious reason why Unilever has a separate business team for Dove than it does for Axe.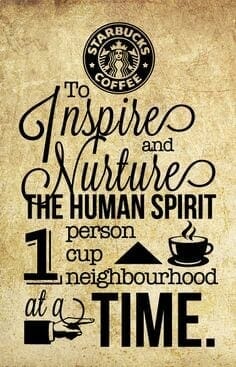 The problem with strategic pillars, though, is that they are far too often used as more than just a way to strategically divide business units.  Instead, they are used increasingly as a way to describe a marketing strategy and evolve into a replacement for something that matters far more: a clear strategic vision.  Consider, for example, the following mission statement used by Starbucks to describe the value they aim to offer their customers:

To inspire and nurture the human spirit – one person, one cup and one neighborhood at a time.
Why does this work?  Four reasons:
It is simple and easy to remember.
It is actionable for employees.
It describes a point of view of the world.
It is meaningful as soon as you read it.
Now imagine that same discipline was applied to the way that AT&T described its vision for the new mobile suite partnership with Microsoft. What would that sound like?
Rethinking AT&T Mobile Office Suite's Strategic Vision Statement
As an exercise in rethinking strategy, sometimes it is valuable to consider how a brand from a very different industry might change a business strategy if they were in charge of it.  Taking that idea (which I sometimes use in brainstorming workshops) and applying it to this situation, here's what AT&T's marketing strategy for it's Mobile Office Suite for small businesses could be if they thought about it the way Starbucks does:
AT&T Mobile Office Suite
Mission: To connect small business owners and employees with the information and people that matter most.
Predictable: You know what you will pay for every employee every month, no surprises or sneaky surcharges.
Protected: Highly secure network to prevent hacking, keep your secrets and better manage employees.
Useful: All Microsoft Office tools built in and a single dedicated line for all desk lines and connected mobile devices.
Reliable: Our network is powerful so you never have dropped calls and always have fast data no matter where you are.
Clearly this is a marketing oriented approach to rethinking their "pillars" based on value to consumers rather than industry buzzwords.  It is also only based on my very quick viewing of their announcement blog post and website and hardly any background research or efforts on my part.  The reason I shared it here wasn't to say that it is what AT&T should adopt.  Rather, I'm interested in how much more human, effective, and clear their strategy and mission could be if their leaders weren't stuck adhering to a confusing and meaningless list of four strategic pillars.
It's not that strategic pillars always have to be bad – but the fact is that they often are.  Sometimes the only way to win is to leave those meaningless categories behind and just be clearer about what you have to offer to the world and why anyone should care.  In other words, think outside the pillars.