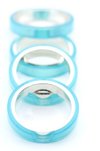 Everywhere you turn online there is another site that introduces new ways to find that special someone. From personality profiles on eHarmony to focusing on finding "recreational" friends on sites like AdultFriendFinder.com – there seems to be some online service for everyone. Public perception of online dating, too, has changed from assuming it was just for those who would desperately visit sites like RussianBrides.com to "order" their dream wife … to a much more mainstream and accepted activity online. But what about the single nation – those that choose (for the moment) to remain single? Singelringen has the answer:
By definition, your are on your own as a single, but you are not alone there are many of us around the world. We should stand up for what we are, and for what we represent. Dare to be a proud single! Singleringen shows your marital status is a conscious choice for the time being. Its always more pleasing and attractive when you stand up for your choices. By wearing your Singelringen, you manifest that its okay to be single. Singelringen is a ring to be worn with pride by singles all over the globe. The trend started in Scandinavia, and is now spread around the world.
The site sells the Singelringen for $49 USD, and also has some cool features like an anonymous request you can send to someone to find out if they are single or not. The rationale, apart from starting a movement for those who are ok with being single, is that singles need a way to signal their civil status more than anyone else. I love the concept behind this, though it will be interesting to see if this trend can take off in the US as it seems to have done worldwide. The irony is, by starting a movement around a community of singles – Singelringen may be in the perfect position to help these singles start to connect with one another worldwide. Sounds a bit like online dating, doesn't it?