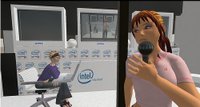 Earlier this week I posted about the Intel Second Life campaign that were working on with Millions of Us. The campaign will come to a close tomorrow morning at 8am sharp with a scripted finale that you won't want to miss. Along the way, Versu has awakened the imagination of not just loads of Second Life residents who have come out and made her 72 hour journey their own, but also many watchers who have heard about her efforts online. For a collection of blog posts about the event, check out https://del.icio.us/tag/nyclivewindow. A few highlights include being the featured story on Rocketboom, getting picked up by Slashdot, and a ClickZ article that was just published.
There are also several larger media pieces planned after the event in many longer lead print publications which will be published over the next few weeks. Despite Sun launching their virtual press conference in close proximity to this event, it looks like Intel's effort to do something original to illustrate the power of the Core 2 Duo chip and Centrino mobile technology is winning lots of rave reviews. My favourite so far comes from Eric Rice (aka "Spin Martin"):

I love this event. Why? It's blogged. It's podcasted. It's videoblogged (by way of machinima). And it walks along that line of social network spaces and video game spaces. It's profitable. It's performance art. It's real-time. It's social. It's a use of advertising that's not preachy, but demonstrable use of products. It's *everything*.
Thanks for playing WITH us, Intel, and not talking AT us.
Kudos to Intel for getting it right at a time when it is becoming increasingly common to see stories of companies getting it wrong take up more than their fair share of the headlines.