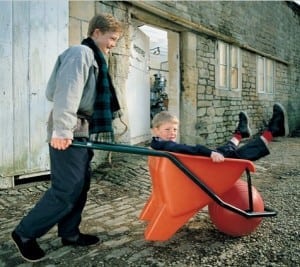 The "Ballbarrow" was never really a product destined for greatness.
Replacing a wheel in a traditional wheelbarrow with a ball hardly qualifies as a groundbreaking technological innovation. But it does solve a problem. Great inventions usually do. And when James Dyson first created and produced his Ballbarrow, it was a hit with gardeners seeking an alternative that wouldn't leave wheel shaped trenches in their garden. The problem with the Ballbarrow was that it was too easy to copy … and competitors did.
Today, Dyson can look back on that failure as a learning moment – and often talks about it during interviews as a moment when we realized the importance of protecting your ideas from all imitators. By all accounts, that strategy has worked for Dyson. Last year the company beat out hundred year old competitor Hoover to become the top selling upright vacuum cleaner brand in the US with nearly 27% market share.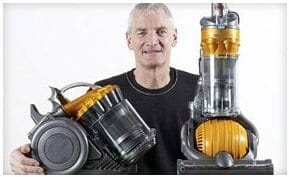 For a global company with thousands of employees, one of the biggest long term challenges is keep the spirit of invention alive. It is a challenge that lots of brands share. How do you motivate people to continue coming up with new ideas and owning them? One of the fascinating facts about Dyson is that the company doesn't employ technicians. Instead it relies on its engineers and scientists to actually go out and build prototypes of the ideas they come up with. The lesson in that simple choice is profound if you consider how rare it actually is.
How often do the people around you spend trying to define what is part of their job and what isn't?
In this world of micro-expertise, the common advice seems to be to grab your own corner of the landscape and add that skill to your virtual utility belt of platforms you know how to use. Want to improve your job security for the future? Just become the Twitter Vine expert within your company, or learn how to market on Pinterest.
Dyson doesn't celebrate micro-expertise. Instead, they work hard to "try and make the corporation like a garage," as Dyson shared recently in an interview in WIRED magazine. "If you merely hand a drawing to somebody and say, 'would you make this please?' … you're not experiencing it. You're not understanding it. You're not feeling it. Our engineers and scientists love doing that."
For a brand that has become synonymous with innovation, it may be surprising to realize that Dyson is not a company powered by ideas at all.
Instead, it is powered by a culture of execution of ideas inspired by the legendary story of Dyson's 5,127 failed prototypes for his billion dollar vacuum design. Each failure was a lesson Dyson himself learned personally. And his example offers an important reminder that true innovation doesn't usually happen by committee.
Sometimes instead of finding new ways to collaborate, the best results depend on getting your hands dirty and doing the work yourself.