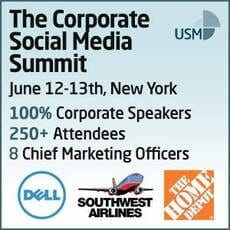 In just a few weeks, it will be time once again for one of my favourite marketing events of the year. No, it's not the party-filled serendipity fest of SXSW, or the Las Vegas geek-pride gathering at CES. The event I'm talking about is all business … and that's why it's one of my top events all year.
On June 12 and 13th in New York, The Corporate Social Media Summit will bring together several hundred corporate brand marketers to talk about a single broad topic: the business value of social media for large brands.
It is this singular focus that led me two years ago to agree to take on the role of Chairman for the event because I believe in the process that the organizers are using to create value for everyone in the room. In particular, there are three big reasons this event always stands out for me:
Better Topics. The agenda is created based on months of data collection and surveying of top marketing managers around the world.
Real Practitioner Speakers. The speaker list is fiercely protected – so EVERY speaker is from a corporate brand and brings real insights.
Discussion Style Presentations. The event is run discussion style, with no keynotes or boring long winded presentations.
As a result, the pressure is on for session moderators (like myself) to do our homework and inspire great conversations on stage. As someone who routinely speaks or attends more than 50 events a year, I believe more of them should take this approach. In case you can make it to join us, there are still a few slots left (and you can use the discount code "IMG150" for a discount).
Even if you can't make it, here is a preview of 16 big topics we will be discussing, as well as the very smart corporate marketing minds who will be contributing to each of the discussions:
1. How does social media fit into a broader marketing strategy?
Speaker List:
Sears & K Mart Seasonal and Outdoor Living, Jennifer Dominiquini, CMO
Footlocker/Eastbay, Dave Lokes, Chief Marketing Officer
Organic Valley, CROPP Cooperative, Theresa Marquez, Chief Mission Executive
Outback Steakhouse, Mike Kappitt, Chief Marketing Officer
MasterCard Worldwide, Alfredo Gangotena, Chief Marketing Officer
The Hertz Corporation, Bob Stuart, Chief Marketing Officer
The Hertz Corporation, Joseph Eckroth, Chief Innovation Officer
Chobani, John Heath, Chief Marketing Officer
2. How can brands extend social beyond marketing and embed it across multiple departments?
Speaker List:
Southwest Airlines, Linda Rutherford, Vice President of Communication and Strategic Outreach
FedEx, Victor Reiss, Director Digital and Social Media
McDonalds, Heather Oldani, Senior Director of Communications
3. What type of social infrastructure is needed to engage customers at multiple points?
Speaker List:
Whole Foods, Bill Tolany, Senior Director, Marketing & Integrated Media
ARAMARK, Tom Carusona, Senior Director, Digital & Social Media
The Home Depot, Jean Niemi, Director of Social Media
4. How can your brand energize your community to interact with purpose and spot new engagement opportunities?
Speaker List:
Oxygen Media, Harleen Kathlon, Senior Vice President
Wells Fargo, Kimarie Matthews, Vice President Social Web
5. How do brands find and engage the highly influential evangelists and enthusiasts who matter?
Speaker List:
Michael Kors, Farryn Weiner, Director of Social Media, Worldwide
Johnson & Johnson, Devon Eyer, Director Corporate Communications
6. What does it take to create exciting, useful and valuable content online?
Speaker List:
ESPNw, Katie Richman, Director of Social Media Strategy & Social Product Development
The Hershey Company, David Witt, Director, Global Digital Marketing and Brand PR
7. How do brands build long term relationships with influencers to lend credibility to their products or services?
Speaker List:
Dell, Cory Edwards, Director of social media and corporate reputation
Caterpillar, Kevin Espinosa, Social Media Marketing Manager
Schneider Electric, Tanya Donnelly, Global Social Media Director, Global Marketing
8. How do brands take an underwhelming product or service and create engaging content around it?
Speaker List:
Premier Farnell, Dianne Kibbey, Global Head of Community and Social Media
Automatic Data Processing, Inc, Matt Petitjean, Vice President, Marketing
9. What advanced social CRM strategies can brands use to build a fuller picture of their customer-base?
Speaker List:
Thomson Reuters, Jen McClure, Senior Director, Social Media Strategy
10. How can brands use social channels as a helpline to deliver better customer service?
Speaker List:
Bank of America, Emily Berg, SVP, Social Media
AT&T, Phil Bienert, SVP, Digital Experience
11. How can social media be used internally to drive increased collaboration, innovation and efficiency?
Speaker List:
Wells Fargo, Nathan Bricklin, Senior Vice President and Head of Social Business Strategy
12. How do brands create an advanced SoLoMo (Social-Local-Mobile) strategy to deliver deeper engagement?
Speaker List:
EXPRESS, Eric Gohs, Director of Online Marketing
Dunkin' Donuts, Scott Hudler, Vice President-Global Consumer Engagement
13. What measurement strategies, tools and platforms can help to analyze the overall brand value of social engagement?
Speaker List:
General Mills, Kirstie Foster, Director of Public Relations and Social Media
Lego, Lars Silberbauer, Head of Social Media
14. How can brands understand audiences better to create more effective audience segmentation and targeting?
Speaker List:
PETCO Animal Supplies Inc, Katherine Smith, Director Social Media
15. How do brands use social media in real time for crisis response to preserve brand reputation?
Speaker List:
JetBlue Airways Corp, Jenny Dervin, Vice President Corporate Communications
Procter & Gamble, Paul Fox, Director, Corporate Communications
16. How can brands establish the right framework to capture, manage and analyze social data?
Speaker List:
American Airlines, Jonathan Pierce, Director, Social Communications
Want to know the answers to these questions? I will be working with the team at Useful Social Media to capture some of the insights that panelists share on stage during the Corporate Social Media Summit on June 12th and 13th in New York and share them in a future recap blog post after the event is over.
To receive that post, as well ongoing posts from this blog about new marketing ideas – please subscribe by email to my blog!