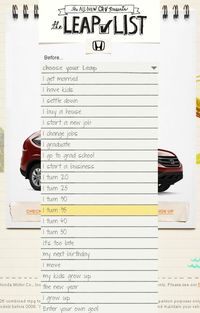 Every year at the start of the new year there is something that most of us do without realizing it. It is related to making new year's resolutions, but it is more about sequencing your long term goals into the order in which you want to achieve them. One example might be saying to yourself, "I want to be married and then have a kid before I turn 35." Life is full of these little promises. So full, in fact, that often we make them to ourselves without even thinking. It raises an interesting marketing question as well.
What would it take to get a customer to reevaluate the life sequence they have already set for themselves?
It becomes a particularly important question when you consider a brand selling a product that is all about fitting into the right stage in life. A product, for example, like a car. When you consider when people buy new cars, it is very much about life's stages. Graduating from college, landing a new job, getting married or having a kid. Each of these life changes can often be triggers to consider buying a new car.

Honda's new campaign for the CRV may have found one way to solve that challenge. With their Honda LeapList campaign, they encourage consumers to go online and make their own lists of what they want to accomplish before they turn 30, or what they want to do before they get married. It is a brilliant way not only to encourage people to dream and perhaps even act on their longstanding dream to travel the world, but also to encourage them to think about how getting a new car might fit into that sequence. The underlying message is a perfect one for their consumers: why wait? You can do all the things you want to do, and you can do them on your own time. But maybe you should just think about buying that car right now instead of waiting.
Sure it's clearly a marketing message – but what they perfectly prove is something that any marketers would do well to remember. Sometimes the most powerful thing you can do to sell your product is help your customers to imagine exactly when they should buy it.