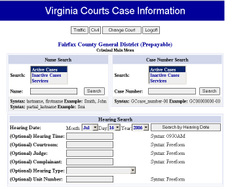 As part of a self service egovernment initiative in Virginia, anyone who has any type of traffic (or criminal) charge in one of the many counties across Virginia has the option to log onto https://www.courts.state.va.us to see details of their case and pay a fine rather than go to court. On the surface, this is a great idea – and most of us certainly wish there were more options to use egovernment services rather than standing in line for bureaucratic nonsense. The one thing I learned when I went on the site (yes, to pay a speeding ticket) was that the interface for the courts system is designed to allow you to openly search for infractions by obvious parameters such as last name. The end effect is that I could search for pretty much anyone I know in the area, find their name and if I know their birthdate, get a list of charges filed against them in General District Court. I know that probably this information is required to be made public … however this seems like gross excess in allowing anyone to see anyone else's driving infractions. But since it's out there, here are a few unintended uses for the site that may pop up:
Online daters can check out someone's current infraction record before agreeing to go out
Parents can watch tickets their teenagers get, but don't tell them about
Employers can see infractions for current or potential employees
And the last and most generous … anyone can pay anyone's speeding ticket online
In a world with HIPAA regulations, many government sites using medieval implementations of accessibility guidelines, and recent news stories of near leaks of sensitive personal data – some might say it's nice to see a site where openness and disclosure has won over privacy and security. Unless a speeding ticket keeps them from getting that dream date online, of course.