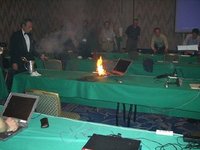 In yet another example of bad blog news for Dell, the NY Times carried a feature piece this weekend about their spontaneously combusting laptop. Unfortunately for Dell, there are some photos running around online of the combustion, and it is growing in a Kryptonite bike lock kind of way. The company line at the moment is that this occurrence is "extremely rare" – which I am sure is true. There are even some less prominent stories about other manufacturers like Apple and HP having the same problem. But the axe is still falling mostly on Dell – and the NY times piece suggests the reason is consumer backlash from Dell's pitiful customer service. As a result, the greater story here is how Dell seems to have learned only one lesson about blogs from their Jeff Jarvis Dell Hell experience … that blogs are impossible to influence. The conclusion from the story was an interestingly chosen quote from Teresa Valdez Klein: "The blogosphere latches onto the story and runs with it – drowning out anything good or redeeming that the company might say."
I wrote some time back about marketing and Wikipedia and how I believe there is a place for corporate content there. With Wikipedia, the aim of most contributors to the site is to present a factual and unbiased definition for terms included. And you can be sure that if something is biased, another Wikipedian will usually go in to update it. In most cases, this "wisdom of the crowds" model results in better, more neutrally written content. So here is the question of the day: is there a similar phenomenon that occurs in the blogosphere or is any corporate created content automatically dismissed or derided? If you look at great examples of companies engaging in the conversation rather than just putting out releases – it's clear that the corporate voice can have an effect in the blogosphere if properly used. Scoble humanized Microsoft (too bad for them he's leaving). Randy consistently gets Boeing's point of view into any discussion of Boeing and Airbus. There are many other bloggers that offer a corporate view in an authentic way and in turn help their employers to be part of the dialogue. Perhaps the real problem for Dell is that they still don't have anyone with this kind of voice in the blogosphere.
ADDENDUM: Coincidentally, the same day I posted this – Dell actually did launch their own blog called One2One – Direct Conversations with Dell. Though there has been a mixed reaction to the blog so far, it's certainly a great step in the right direction for Dell. A quick look at their doctrine shows an ambitious vision for the blog. Ultimately, the immediate message Dell is sending is captured in their latest blog post: "Real People are here and we're listening." For any corporate entry into the blogosphere, that's a pretty strong message to send.