I am a passionate hater of Ticketmaster.com. Paying a surcharge to a site whose main purpose it is to make it difficult for me to complete an online transaction seems wrong on every level. Imagine you were forced to make every travel booking for any hotel you ever wanted to stay at through Expedia.com. That's the equivalent of the monopoly Ticketmaster has, and it's amazing in our world of increasing choice online that an old world monopoly like theirs has managed to last this long. Here's my latest frustration:
If you can tell me what this CAPTCHA actually says, I'll give you a million dollars. Just post your best guess, along with your swiss bank account number so I can wire you the money if you're right …
Update (08/10/07): Here are two other CAPTCHAs that I got when going back to search for tickets for another show one day after writing this post (no joke). I never realized CAPTCHAs could be so well branded, but at least they're honest …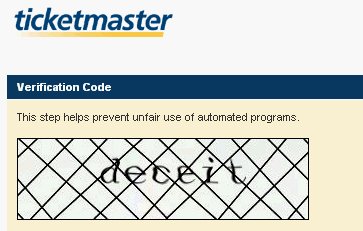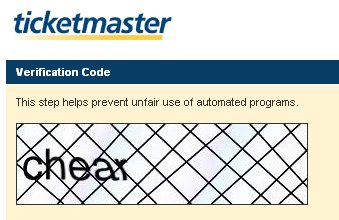 Now all they need to do is work on their poor spelling.