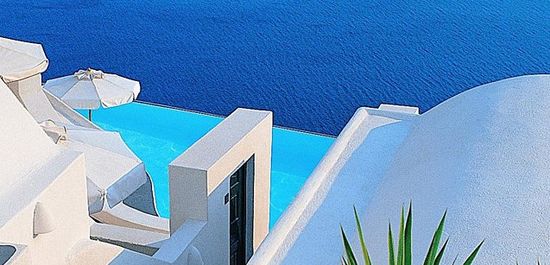 There is no hotel on Santorini that doesn't look amazing in the photos on their website. They all show rooms with white washed walls and clear blue exteriors. Glasses of wine on tables overlooking amazing sunsets. Beauty products are the same online, promising supermodel style complexions with no wrinkles in sight. Flickr is full of photos that are "tweaked" in some way to slightly increase their beauty, and the tricks that used to be only in the realm of tabloid photo editors are now available to us all.
With a simple filter, you can remove anything from red eye to love handles in a photo, and change your skin tone to give yourself that tan you wish you had too. We even have a word for images that we believe have been altered, calling them "photoshopped." In this overly perfected world of online imagery, there is such a thing as looking too good online. It's hard to trust in images that are too perfect. They just aren't believable.
There are a handful of sites that have started to uncover the solution to this problem. TripAdvisor lets users post their own images of a hotel. Without the benefit of a fisheye lens, the rooms look the size they actually are, and any customer can get a more real picture of what their room may actually look like. On Amazon, you can upload customer images of any product – so people not only get the manufacturer's photo, but get to share their own. These images are often real and unfiltered. They are the ones that add dimension and inspire trust. Ironically, they may even be the ones that contribute most to converting a potential customer.
What these sites know is that a hastily taken photo with a simple point and shoot reveals a truth that no professionally photoshopped image will. Ultimately, it is the combination of both that gives your customers a real sense of what they are about to buy, and helps to minimize the chance that they will be disappointed with what they get. Sometimes being less than perfect can be the best way to sell.